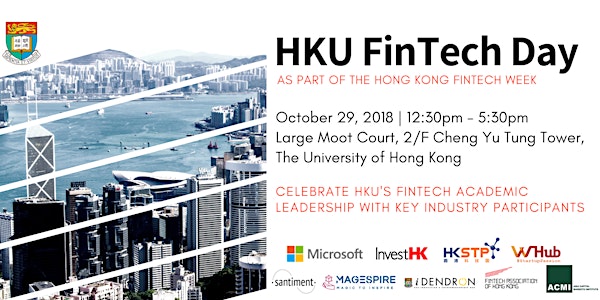 HKU FinTech Day 2018
When and where
Location
Large Moot Court 2/F Cheng Yu Tung Tower The University of Hong Kong (HKU) Hong Kong
Description
The University of Hong Kong will be hosting its 2nd FinTech Day to announce the launch of pioneering educational initiatives at the intersection of law, tech & entrepreneurship.
The event will bring together renowned academics and key industry players -- including global leaders from China's WeBank, Russia's Tinkoff, Hong Kong's TNG and Microsoft -- in panel discussions, career talk, startup pitch and more. You will also be the first to witness the launch of the University's new undergraduate programme (BASc FinTech), as well as updates on Introduction to FinTech MOOC and a sneak peek into the two upcoming MOOCs (FinTech Ethics & Risks and Blockchain and FinTech) in HKU's FinTech Professional Certificate Program.
Join us in the celebration of the University's research and teaching in FinTech and in dynamic discussions covering the latest topics including Digital Banking, Artificial Intelligence and Blockchain.
Reserve your place now and don't miss out networking opportunities!
AGENDA
[12:30pm - 1pm] Registration
[1pm - 1:10pm] Welcome Remarks
[1:10pm - 2pm] The Future is Now: Understanding and Preparing for the Implications of Artificial Intelligence by HKU Faculty of Business & Economics, Squared-S Artificial Intelligence, blu Artificial Intelligence and ThinkCol
[2pm - 2:30pm] Special Announcement of BASc in FinTech, LITE and the new MOOCs
[2:30pm - 3pm] Be Future Ready in the new Era of ABC: AI, Big Data and Cloud by Microsoft
[3pm - 3:10pm] Education for Emerging Cohort of Fintech Entrepreneurs by Santiment
[3:10pm - 3:40pm] Blockchain Fever: How to Cure This Mystery Affliction by Santiment, MaGESpire, Ariya Digital and Pelham Grey
[3:40pm - 4:20pm] FinTech Startup Fireside Pitches by iDendron
[4:20pm - 5:20pm] Leadership in Digital Banking – RegTech as a Secret Sauce by Mr. Huiya Yao (Head of FinTech Innovation, WeBank), Mr. Maxim Yevdokimov (Chief Digital Customer Experience Officer, Tinkoff), Mr. Alex Kong (Founder and CEO, TNG), and Mr. Brian Tang (HKU LITE and ACMI).
[5:20pm - 5:30pm] Closing Remarks
[5:30pm - 6:30pm] Networking
***Directions to the event venue can be found here (HKU MTR Station Exit C1).