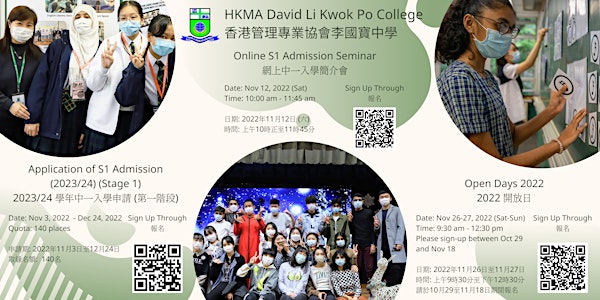 [HKMA David Li Kwok Po College] Online S1 Admission Seminar
Online S1 Admission Seminar 網上中一入學簡介會
About this event
如你未能進入講座,請使用本校網頁上顯示的連結進入:
If you can't enter the seminar. Please go to the school website for the link:
General Information
Date: Nov 12, 2022 (Sat)
Time: 10:00 am - 11:45 am
Sign-up: Please sign up before Nov 8, 2022
活動資料
日期 : 2022年11月12日 (六)
時間: 上午10時正至11時45分
報名: 請於2022年11月8日前報名
For Enquiries: 2626 9100 or college@hkmadavidli.edu.hk
查詢請致電 2626 9100 或電郵至college@hkmadavidli.edu.hk
The College is a co-educational school operating under the Direct Subsidy Scheme (DSS) and uses English as the medium of instruction. As the College is not participating in the Government's Central Allocation System, we welcome applications from all Primary 6 students.
本校是一所直接資助計劃(直資)男女中學,以英語作為主要教學語言。本校並不參加政府統一派位,所有小六學生均可向本校申請中一學位。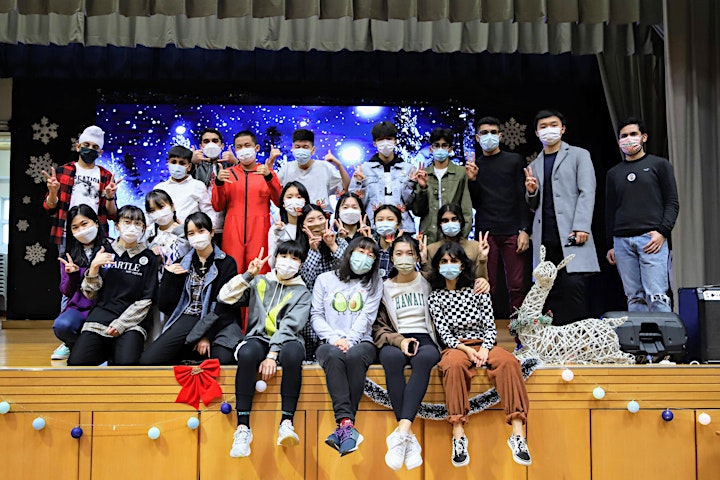 HKMA David Li Kwok Po College inaugurated in 2000, the College is one of the more established schools within Hong Kong's Direct Subsidy Scheme (DSS) sector. The College's mission is to develop all students into well-rounded, life-long learners who are bi-literate and tri-lingual, international in their outlook, creative and proficient in information technology. Since its establishment, the College has nurtured creative, confident, outgoing and linguistically-proficient students who enjoy a balanced school life.
香港管理專業協會李國寶中學於2000年創立,是本港其中一所發展具規模的政府直接資助計劃 (直資)學校。李國寶中學以全人教育為目標,致力培育學生具備創意思維和國際視野,並掌握兩文三語及運用資訊科技的能力,從而幫助他們建立終生學習的理念。過去20多年來,本校已培養了很多具備創意、充滿自信、活潑進取、有良好語文能力及熱愛校園生活的學生。