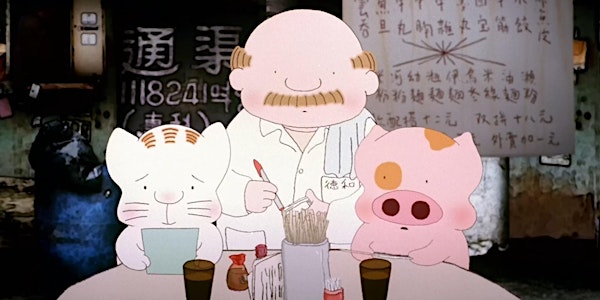 HKIFF46 免費放映《麥兜故事》HKIFF46 Free Screening, My Life as McDull
光影浪潮 香港電影新動力 Making Waves - Navigators of Hong Kong Cinema
When and where
Location
Emperor Cinemas Times Square 1 Matheson Street Hong Kong, HKI Hong Kong
About this event
回歸廿五載,本地電影人的努力成果有目共睹。每部出色的作品都標誌着香港電影在題材、風格以至美學上的創新突破,同時亦捕捉了城市、社會以至民生多年來的不同面貌。《細路祥》及《麥兜故事》從孩子的目光拍出地道草根生活感,亦觀照時代變遷,是貼切的香港寫照。《少林足球》以武俠片貫徹動漫風格,勵志與搞笑合一,令人看得笑中有淚;《桃姐》則透過家傭與少主情同母子的關係,體現人間有愛。同樣超越警匪類型自成一格,《PTU》以冷峻風格營造出緊張氛圍,《旺角黑夜》則融合寫情手法及地域實感,交錯出城市與人性的複雜面相。《投名狀》及《一代宗師》分別回溯清末及民國的動盪時局,反思歷史的缺口及文化身份的根本,展示非凡視野。《踏血尋梅》及《少年的你》代表着新銳導演的澎湃創意及個人風格,細膩道出年輕一代處身社會邊緣的孤獨絕望。是次活動由創意香港與香港國際電影節協會合辦,除放映以上十部港產佳作之外,同時亦舉辦攝影展,以四位劇照師的另一種光影藝術,展現香港電影的非凡魅力。
8月5日(五)上午10時起接受登記。每位觀眾只可登記門票乙張。名額有限,先到先得,額滿即止。
《麥兜故事》
日期及時間:8月24日(三) 下午12時15分
地點:英皇戲院 銅鑼灣時代廣場
2001 | 72分鐘 | I
製作人/影評人將出席放映
________________________________________
Looking back over the past 25 years, the Hong Kong film industry has gone through many changes, from entertaining genre productions to experimental independent films, to co-productions with the mainland and creative personal stories from a younger generation of filmmakers. Through their stories and characters, the filmmakers reflect on the changing landscape of our city, while capturing the pivotal moments in the history of Hong Kong cinema and in the lives of Hong Kong people – from authentic slice-of-life dramas through children's innocent eyes, uproarious comedies, poignant melodramas, ground-breaking crime thrillers, and riveting period pieces to the vivid portraits of the younger generation. This special programme features the seminal works that offer insights into a new vista of Hong Kong cinema. Create Hong Kong and the HKIFFS are pleased to co-present ten screenings that exemplify the diversity and creativity of post-1997 Hong Kong cinema, alongside an exhibition of film and behind-the-scenes stills by four renowned unit photographers.
Online registration will start at 10 am on 5 Aug. Each person is entitled to 1 ticket. Limited seats are available. First-come, first-served.
My Life as McDull
Date & Time: 24 Aug (Wed) 12:15pm
Venue: Emperor Cinemas Times Squares
2001 | 72 min | I
Filmmaker/film critic will attend the screening.
________________________________________
影片簡介:
百分百小市民寓言,亦是本土創造力的展現。動畫濃縮香港世情變化,港人自我形象由李麗珊奪奧運金牌的高峰滑落,變成經濟困局下的負資產。無論是「馬爾代夫」或「尋找黎根」情節,既感人亦自嘲,配上不落俗套的結局,港人難以不為所動。配音尤為精采,亦拍出極精妙的街頭盤旋鏡頭及一應熟悉的地道文化,由茶餐廳、蛋撻、廣告牌到街招等,構成一個虛構但半帶現實的世界。麥兜已不是虛構角色,而是包含了此地境遇的象徵,是最為貼切的香港寫照。
Synopsis:
Good-natured, gormless piglet McDull is just a hand-drawn creation, but his bigscreen adventures have channelled more of the unique Hong Kong experience than any live-action films. This animated classic chronicles McDull's working class beginnings, as he and his mother brave humble Kowloon life, from the mundane and ridiculous to the lyrical and sublime. Colourful, richly detailed,and not just for kids, My Life as McDull delightfully and poignantly representspost-1997 Hongkongers of all ages and all stripes, for better or worse.
________________________________________
(i) 根據最新的社交距離措施,放映場地的觀眾入座人數不超過原定可容納人數的8成半。報名程序中,系統會提供當時可供選擇的位置,觀眾亦可自行選擇座位。
According to the latest social distancing measures, The number of audience members in screening venue will be limited to 85% of the original capacity. The computerized registration system will automatically assign a random available seat for the audience, or the audience can choose their preferred seat.
(ii) 請於放映前30分鐘到達放映場地,並出示有效電子門票或列印本,向本會工作人員登記,換領入場門票。
所有於放映開始後仍未完成登記的電子門票或列印本,將作無效。其預留亦會作廢。敬請留意。
Admission tickets redemption will start 30 minutes prior to the screening. Attendees who have made the reservation must present their e-tickets or paper tickets to HKIFFS staff for admission ticket redemption.
The reservation will be voided if E-tickets or paper tickets are not redeemed after the screening started. Thank you for your attention.
(iii) 如有任何爭議,香港國際電影節協會保留最終決定權。
In the event of a dispute, HKIFFS's decision shall be final.