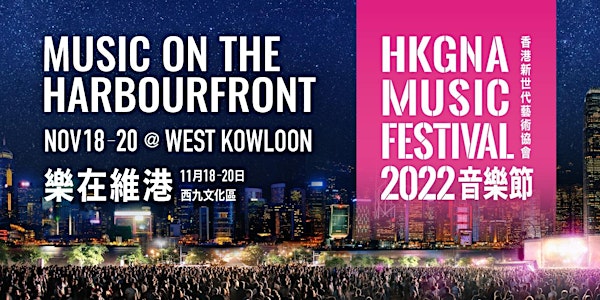 HKGNA Music Festival 2022 - HK Stars of Tomorrow Concert 香港明日之星音樂會(Nov 20)
HKGNA Music Festival 2022 "Music on the Harbourfront" - HK Stars of Tomorrow Concert
When and where
Location
West Kowloon Art Park Great Lawn 西九文化區藝術公園大草坪 West Kowloon Cultural District Hong Kong, KOW Hong Kong
About this event
HKGNA MUSIC FESTIVAL 2022 – "Music on the Harbourfront", a spectacular outdoor three day music extravaganza, presented by Hong Kong Generation Next Arts (HKGNA), will be held at the West Kowloon Great Lawn, Art Park on 18th - 20th November, 2022.
On Novermber 20, 12noon, local & international schools including Diocesan Boys' School, Hong Kong International School, Chinese International School, Korean International School and Gaon Orchestra will be participating in the finale of the 3-day festival.
 Each person can purchase/register a maximum of 2 tickets, and the English full-name of the fellow festival-goer (that matches his/her HKID or Passport) must also be presented during purchase to be printed on the tickets. These names will be verified during concert admission.
 All ticket holders must bring along their HKID or Passport (true copy) for admission. Presenter will check the name on the ticket against the name on the HKID or Passport (true copy). Admission will only be allowed after successful verification. Ticket holders are required for security checks at the entrance, and wear the wristband provided by Presenter before they access the venue.
 It is highly recommended to arrive at the West Kowloon Art Park Great Lawn at least 1 hour prior to the movie/concert for check-in to avoid a long queue.
Title Sponsor: HSBC
Double Diamond Sponsor: Esprit
Gold Sponsor: ZNS Jewellery
Media Partner: CJENM
Official Hotel Sponsor: Upper House
Airline Sponsor: Cathay Pacific
Supporting Partners: Samsung, Tom Lee Music
Music Partner: KKBOX
Supported by the Hong Kong Tourism Board, Tourism Commission and Brand Hong Kong