HKGNA Music Festival 2020 "Music for All Seasons!" 「四季樂韻」
Sales Have Ended
Registrations are closed
Thank you for your interest in HKGNA Music Festival 2020 "Music for All Seasons!". Due to overwhelming response, tickets for this concert has already been sold out. If you wish to be placed in our waitlist, please write to info@hkgna.com. 多謝 閣下對香港新世代藝術協會音樂節2020的支持。由於登記反應熱烈,「四季樂韻」的門票已全部售罄。如果您希望被列入候補名單,請以電郵(info@hkgna.com)通知我們。
Sales Have Ended
Registrations are closed
Thank you for your interest in HKGNA Music Festival 2020 "Music for All Seasons!". Due to overwhelming response, tickets for this concert has already been sold out. If you wish to be placed in our waitlist, please write to info@hkgna.com. 多謝 閣下對香港新世代藝術協會音樂節2020的支持。由於登記反應熱烈,「四季樂韻」的門票已全部售罄。如果您希望被列入候補名單,請以電郵(info@hkgna.com)通知我們。
"Music for All Seasons!" 「樂韻四季」
About this event
Hong Kong Generation Next Arts (HKGNA) is proud to present our 7th HKGNA Music Festival "To Hong Kong with Love" this October 31 - November 28, 2020. We are proud to feature our great line up of renowned guest artists to spread the gift of music in all free concerts and events to the Hong Kong community during this very difficult time.
Our opening concert "Music for All Seasons!" with the incredible Canadian Chinese Violinist Jing Wang, concertmaster of Hong Kong Philharmonic, performing with the top prize winner of Junior Tchaikovsky Competition, Cellist Jia Nan and HKGNA Founder Pianist Michelle Kim performing Piazzolla's The Four Seasons of Buenos Aires. Members of Hong Kong Camerata Strings will perform Vivaldi's The Four Seasons under the direction of Conductor/Violinist Jeremy Williams. This concert will be on Oct 31, 2020 at Tai Kwun JC Cube supported by the Consulate General of Canada in Hong Kong and Macao.
-------------------------------------------------------------------------------
香港新世代藝術協會(HKGNA)隆重呈獻第七屆香港新世代藝術協會音樂節2020 ,主題是「以愛點亮香港」,將於2020年10月31日至11月28日舉行。今年音樂節所有節目和活動均為免費,與香港人共度時艱,用音樂洗滌心靈。
掀幕音樂會「四季樂韻」由加拿大籍華裔小提琴家及香港管弦樂團首席王敬,聯同贏得柴可夫斯基青少年大賽季軍的大提琴家賈楠、HKGNA創辦人兼國際鋼琴家金美雪一同演奏皮亞佐拉的《布宜諾斯艾利斯的四季》;港弦室樂成員及其指揮兼小提琴家衛傑明則會在下半場演奏韋華第的《四季》。此音樂會於2020年10月31日晚上8時正在大館賽馬會立方演出,由加拿大駐香港及澳門總領事館支持。
Programme曲目
Piazzolla | The Four Seasons of Buenos Aires
皮亞佐拉 | 《布宜諾斯艾利斯的四季》
Vivaldi | The Four Seasons
韋華第 | 《四季》
The concert runs around 90 minutes with one intermission.
音樂會全長約90分鐘,設15分鐘中場休息。
Warm reminder:
*This Concert is suitable for ages 6 and above. Each ticket is valid only for one person (regardless of age).
*Please presents the ticket(s) in the confirmation email (either digital or printed copy) upon admission. HKGNA reserves the right to reject entrance of any persons who fail to do so.
*Marked seating will be allocated by HKGNA to comply with venue policy and government restriction on COVID-19. Please follow the assigned seats and the arrangement of venue staff.
*Separates seats may be arranged depending on the size of the audience.
*For the health and safety of other audience and staff members, we kindly ask you to keep your mask on within the venue parameters at all times.
*Temperature check for the audience member and staff will be conducted by Tai Kwun
*If you have respiratory symptoms, please do not attend the performance and seek medical help as soon as possible.
*Except for members of HKGNA staff, no video recording or photography during the performance is allowed.
*If you are unable to attend the concert, please email infohkgna@gmail.com for our better arrangement
Terms and Conditions:
*HKGNA reserves the right to rearrange the concert without prior notice
*In case of any dispute, HKGNA shall have the right of final decision.
*Please contact (852) 6083 2560 (Mon to Fri - 10am to 6pm) or write to info@hkgna.com for all other enquiries
-------------------------------------------------------------------------------
溫馨提示:
*音樂會只適合六歲或以上人士。一人一票,不論年齡憑票入場
*入場時請出示確認電郵內的門票(電子或列印版),本會有權拒絕無法出示門票之人士進場
*本會將根據當前政府條例規定及音樂會場地要求進行劃位,請依照會場職員指示入座
*視乎是次音樂會的登記人數,觀眾有可能被獲發不相連座位
*為確保其他觀眾及工作人員的健康,觀眾於場館範圍內必須全程配戴口罩
*大館將為所有進場人士及工作人量度體溫
*若出現呼吸道感染病徵,請勿前往場館欣賞節目,並應盡快求醫
*除本會工作人員外,嚴禁錄影或攝影
*若未能如期出席,請電郵 infohkgna@gmail.com ,好讓我們能作適當安排
條款及細則:
*本會保留調動節目之權利,恕不另行通知
*如有爭議,HKGNA 保留最終決定權
*如有查詢, 請致電 (852) 6083 2560 (星期一至五 - 10am to 6pm) 或以電郵查詢(info@hkgna.com)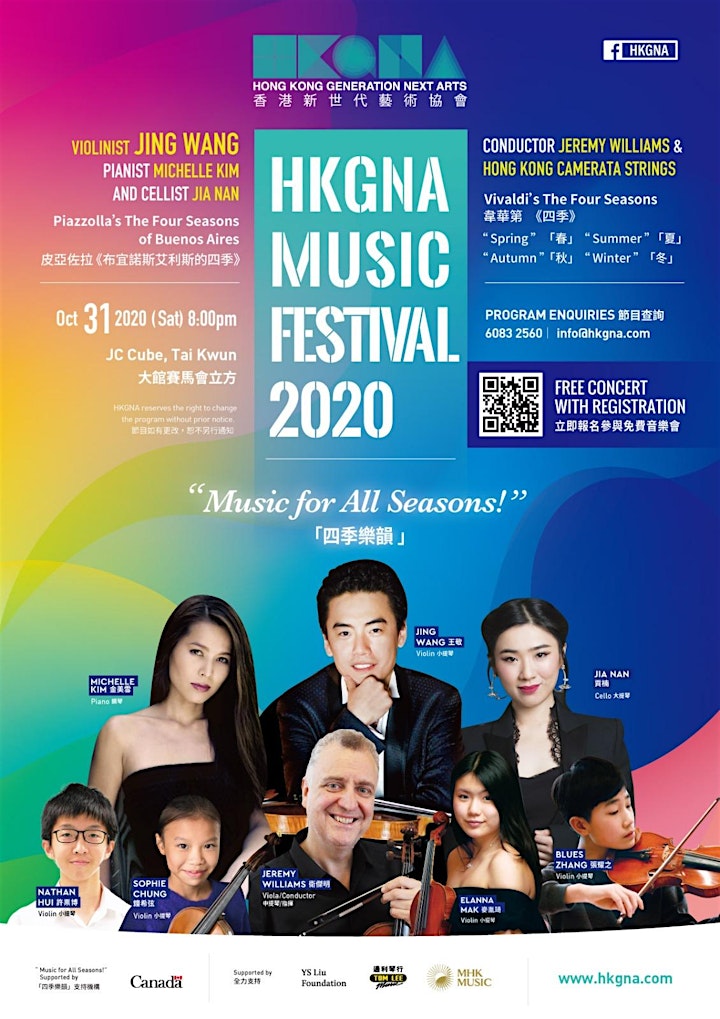 Organiser of HKGNA Music Festival 2020 "Music for All Seasons!" 「四季樂韻」
Hong Kong Generation Next Arts Limited(HKGNA) is a registered charity founded in 2009. HKGNA's Mission is to inspire and nurture artistic excellence and personal success in our next generation of young artists and transform lives through music.
香港新世代藝術協會(HKGNA)是香港註冊慈善團體,創立於 2009 年,目標是啟發並培育下一代青年的藝術成就,為其提供表演機會,助其個人發展,通過藝術表演推動其人生的轉變。