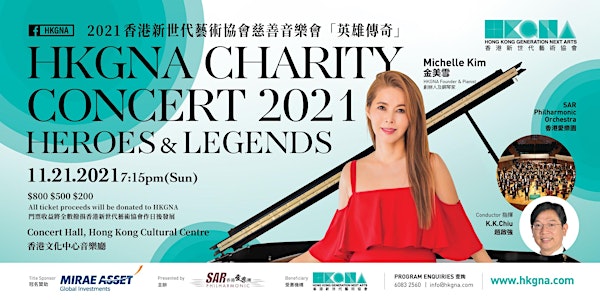 HKGNA Charity Concert 香港新世代藝術協會慈善音樂會2021 【Heroes & Legends 英雄傳奇】
HKGNA Charity Concert 2021 "Heroes & Legends" 香港新世代藝術協會慈善音樂會 「英雄傳奇」2021
When and where
Location
Hong Kong Cultural Centre 香港文化中心 10 Salisbury Road L5, Auditoria Building Hong Kong, KOW Hong Kong
About this event
HKGNA Founder & Artistic Director, Pianist Michelle Kim will perform Beethoven's Piano Concerto No.4 with the SAR Philharmonic Orchestra on November 21 at Concert Hall, Hong Kong Cultural Centre in a fundraising concert for HKGNA. Presented by the SAR Philharmonic, we will be celebrating the majestic sounds of Beethoven in this special concert event with donations going to HKGNA's Musical Angels program to continue creating performance opportunities for our Hong Kong young artists and next year's music festival.
本會創辦人兼藝術總監 鋼琴家金美雪 將聯同香港愛樂團,在11月21日於香港文化中心音樂廳為HKGNA作籌款演出,演奏貝多芬《第四鋼琴協奏曲》。由香港愛樂團主辦,一起歌頌貝多芬的美妙音樂。所籌得的捐款將撥到HKGNA音樂天使計劃,以繼續締造年輕音樂家的表演機會,以及籌備明年的音樂節。
Nov 21,2021 (SUN) 7:15 pm
Concert Hall, Hong Kong Cultural Centre 香港文化中心音樂廳
Donation Price 捐款價格: $800,$500,$200
All ticket proceeds will be donated to HKGNA 門票收益將全數撥捐香港新世代藝術協會作日後發展
Individual Donation Form 個人贊助表格:
Google form- https://forms.gle/hjh5mkBGe3mDWccp7
Corporate Donation Form 公司贊助表格:
http://www.hkgna.com/wp-content/uploads/2021/09/form-corporate.pdf
++++++++++++++++++++++++++++++++++++++++++++++++
Program 曲目
Beethoven: Piano Concerto No. 4 in G Major, Op.58
貝多芬:G大調第四鋼琴協奏曲,Op.58
Piano: HKGNA Founder Michelle Kim
SAR Philharmonic Orchestra
Conductor: K.K. Chiu
Richard Wagner: Overture to "Rienzi, the Last of the Tribunes"
華格納: 《黎恩濟,最後的護民官》序曲
Jean Sibelius: Valse Triste
西貝流士: 悲傷圓舞曲
Richard Strauss: Don Juan
史特勞斯 《唐璜》
SAR Philharmonic Orchestra
Conductor: K.K. Chiu
Presented by 主辦機構: SAR Philharmonic
Beneficiary 受惠機構: Hong Kong Generation Next Arts (HKGNA)
A confirmation email for ticket purchase will be sent to the email address provided by Customer as a reference of successful transaction. HKGNA shall not be responsible for any delayed or undelivered emails due to the submission of incorrect details i.e. email address by Customers, or due to issues that are out of HKGNA's control (such as problems caused by Internet, email service providers, etc.).
Note that all physical tickets will be by delivery, the delivery address is limited to Hong Kong addresses only.
Customers should be responsible to provide the correct delivery address and personal information requested during check-out on HKGNA's Distribution Channels. HKGNA shall not bear any responsibility for the loss of ticket(s) due to incorrect or incomplete delivery address or information.
If tickets are lost or damaged, HKGNA might not reissue or replace the tickets and bear any responsibility.
If Customers have not received the ticket(s) five (5) days before the event day, please contact HKGNA immediately.
Please present the tickets at the entrance of the event.
成功訂票後,本會會自動發送確認電郵至客戶所提供之電郵地址,以供客戶作參考之用。本會恕不負責因客戶提供錯誤的電郵地址,或因其他非本會所能控制之因素如通訊網絡問題、電郵服務供應商問題等而導致電郵有所延誤或未能成功發送。
所有門票將安排郵寄,郵寄地址只局限於香港所有地區。
客戶必須確保該收件地址/資料正確無誤,本會恕不負責因錯誤或不完整之收件地址/資料而導致之門票失遞。
門票如有遺失或塗污,本會或將不補發或更換門票,亦不會承擔任何責任。
郵寄門票 - 若在活動開始日期5日之內仍未收到門票,請立刻與我們聯絡。
入場時需出示實體門票,驗票後即可入場(僅提供訂單資訊無效)。