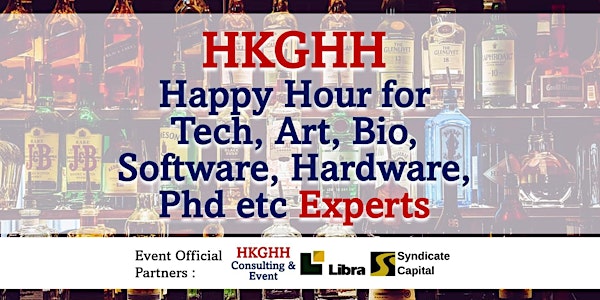 HKGHH Happy Hour Drinks for Tech Art Bio Software Hardware Phd etc Experts
**PLEASE PM US FOR SPECIAL HOLIDAY ARRANGEMENT OF OUR EVENT** HKGHH Happy Hour for Tech, Art, Bio, Software, Hardware, Phd etc Experts
Date and time
Tue, 18 Apr 2023 18:30 - 20:30 HKT
Location
Boomerang & Gram the gourmet LG/F, LKF Tower 55 D'Aguilar Street, Central, HKI Hong Kong
About this event
HKGHH Happy Hour Drinks for Tech Art Bio Software Hardware Phd etc Experts
Welcome CUHK Innovation and Entrepreneurship Club (CUHKIEC) as our Official Event Partner🎊
▶️CUHK Innovation and Entrepreneurship Club (CUHKIEC)
is a student-led club dedicated to helping MBA students tap into the world of innovation and entrepreneurship (I&E) by providing them with the opportunity to connect with industry professionals who embody the I&E spirit.
Other Official Event Partners:
▶️Syndicate Capital Group
is an international investment conglomerate that focuses on investments in mid-market companies, especially in the technology, financial services, green energy, education, healthcare and industrial sectors.
▶️Libra Advertising Group Worldwide
is a full-service advertising and public relations agency that offers comprehensive solutions to help businesses grow and succeed.
Feel free to meet them in event!
**PLEASE PM US FOR SPECIAL HOLIDAY/ TYPHOON/ OTHER ARRANGEMENT OF OUR EVENT. THANK YOU. 請PM我們了解關於活動的臨時假期/颱風/其他安排,謝謝。**
HKGHH 👥👥🍻
New PARTNERSHIPS ! New PROJECTS ! New BUYERS ! New HIRES !
Hong Kong Group Happy Hour (HKGHH) gathers experts in areas not limied to Engineering, Pure Sciences, Non-Science majors, Software, Art, Healthcare, Bio, AI, Crypto, Energy saving, Environment Protection, Hardware, Telecom, etc by arranging regular happy hour events.
Feel free to look for Employmenr / Freelance opportunities, or raise any of your expertise, projects, culture, startup etc in our msg group and attend event:)
Time: Bi-weekly Tuesday 6.30pm
Venue: Boomerang & Gram the gourmet, LG/F, LKF Tower, 55 D'Aguilar Street, Central, HK
Format: Cash Bar Basis (follow Restriction Order of HK government)
Please share this event link to your friends https://hongkongexperthappyhour.eventbrite.hk
請分享此活動連結給您的朋友 https://hongkongexperthappyhour.eventbrite.hk
Join our Linkedin Group and see our latest updates here: https://www.linkedin.com/groups/10490780/
#investment #mergerandacquisition #buyout #takeover #happyhour #hongkong #global #PE #VC #privateequity #corporatefinance #fintech #realestate #blockchain #fundraising #financing #LKF #lankwaifong #central #investmentbanking #globalmarkets #captialmarkets #technology #developer #projectmanagement #consultancy #nft #fintech #regtech #compliance #crypto #eth #btc #bio #chem #esg #drinks #M&A #art #luxury #中環 #酒吧 #風投 #初創 #IT #jobs #web3 #metaverse #gamefi #socialfi #搵工 #工作 #projects #CPA #CFA #LLB #MRICS #business #drinks
About the organiser
We Organize Happy hour for professional, PE/VC and tech experts