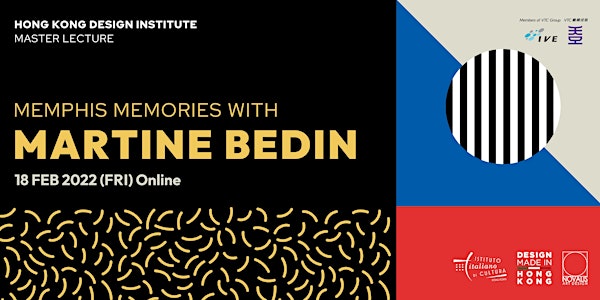 HKDI Master Lecture - Memphis Memories with Martine Bedin
Memphis Memories with Martine Bedin
About this event
The Memphis Group was an Italian design movement founded by Ettore Sottsass in 1981 alongside Michele de Lucchi, Aldo Cibic, Matteo Thun, Marco Zanini, Martine Bedin, Nathalie Du Pasquier, and George Sowden. Active between 1981 and 1988, the Memphis Group defined '80s aesthetic and greatly revolutionised the design world.
With Memphis, design has been liberated from rationality, and enters the realm of poetry. Form no longer had to follow function. Design could be loud, colourful, whimsical, with clashing patterns. Objects were liberated from function and instead became a visual object rather than just a tool or piece of furniture.
HKDI is honoured to have invited Martine Bedin, founding member of the Memphis Group, design and product developer, to share their Memphis memories, and a glimpse behind the scenes of what it was like to be part of the Memphis Group, and a taste of the Memphis spirit.
18 Feb 2022 (Fri)
1630-1632 Introduction by Damon Yau, Programme Leader of Furniture and Lifestyle Product Design (Emcee)
1632-1635 Welcome remarks by Michael Chan, Head of Academic Development, HKDI
1635-1705 Master Lecture by Martine Bedin
1705-1735 Panel Discussion by moderated by Charmaine Tam, Curator of Novalis Art Design; panel members:
- Martine Bedin
- William Figliola, Founder of Novalis Art Design
- Michael Chan
HKDI reserves the right to make changes without prior notice.
Enrolment is free and open to all. Free access to webinar and participation in live Q&A.
The session will be live streamed and hosted on ZOOM. You do not need to have a ZOOM account to view the sessions, however, simply make sure you select 'watch on the web instead'.
Once you have registered for the event, you will receive email confirmation from Eventbrite. HKDI will then send an email link for you to access the live session, 2 days prior to the event. Please check your spam folder as your confirmation email may be hiding. We recommend you to click "add to calendar".