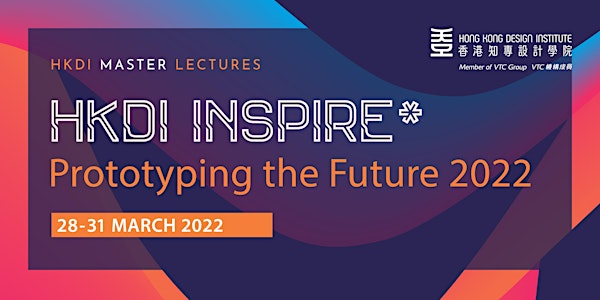 HKDI inspire* Prototyping the Future 2022
Thought-provoking master lecture series across design disciplines to rewire your mindset, feed your curiosity & gain innovative edge.
About this event
HKDI inspire* Prototyping the Future 2022
Design-driven innovations such as artificial intelligence and the Internet of Things are accelerating efficiencies and paving the way for transformative changes to our everyday life. HKDI is honoured to have invited big names from the creative industries to deliver a series of online lectures, in which they will lead our audiences to dive deeper into topics of arts technology, digital fashion and the Metaverse, and entice our community to imagine the future together.
Under each topic, there will be 30-min lecture, followed by a 30-minute panel discussion and Q&A session. Please scroll down for details of our amazing speaker line-up.
Enrolment is free and open to all. Free access to webinar and participation in live Q&A. All sessions will be live streamed and hosted on ZOOM. You do not need to have a ZOOM account to view the sessions, however, simply make sure you select 'watch on the web instead'.
Once you have registered for the event, you will receive an email confirmation from Eventbrite. HKDI will then send an email link for you to access the live sessions, 2 days prior to the event. Please check your spam folder as your confirmation email may be hiding. We recommend you to click "add to calendar".
DAY 1  |  28 March 2022, Monday | Arts Technology
Game Changer Artificial Intelligence, from automation to autonomisation of digital systems
Mr Gerfried Stocker
Panel Discussion, Q&A
DAY 2  |  29 March 2022, Tuesday | Digital Fashion
Why Digital Materials are Critical to the Future of Fashion
Mr Jørgen Sevild
Panel Discussion, Q&A
DAY 3  |  31 March 2022, Thursday | Metaverse
The true metaverse will be decentralized
Mr Yat Siu
Panel Discussion, Q&A
HKDI reserves the right to make changes without prior notice.