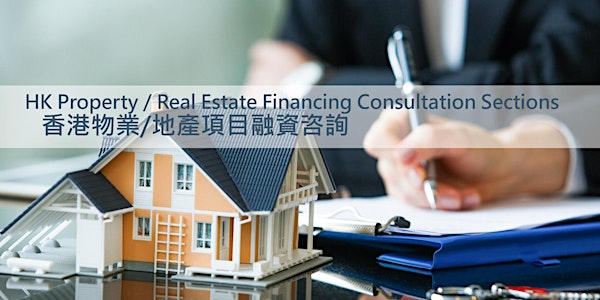 Multiple dates
香港私人物業/地產項目融資咨詢 HK Property/ Real Estate Financing Consultation Sections
反應熱烈, 資金方資金有限, 把握機會! The response is enthusiastic, the capital side has limited funds, seize the opportunity!
Date and time
Starts on Fri, 15 Jul 2022 00:00 HKT
Location
香港 hong kong hong kong Hong Kong
About this event
HK Property / Real Estate Financing Consultation Sections, multiple time sections allowed.
香港物業/地產項目融資咨詢, 多個時段安排.
We are professional group to handle majority of HK Property/Real Estate Development financing projects, open to various forms, small to big scales and property types, competitive LTV (loan to value) and quote, feel free to register and our consultant will follow up to provide consultation with you afterwards!
我們是專業團隊,能處理香港大部分物業/房地產發展融資項目,接受多種形式, 大小規模和物業類型,具競爭力的息口及高成數, 歡迎登記,我們的顧問稍後會與您跟進並提供建議!
Our solution advice cover below but not limited to 我們的方案建議包括並不限於以下:
-1st/2nd/Re- Mortgage 一按/二按/轉按
-Development/ Re- Development Loan 地皮發展/舊樓重建項目融資
-Bridging Loan 過橋貸款
-Bank Mortgage Referral 銀行按揭轉介
-Mezzanine Financing 夾層融資
-SPV Setup for Financing needs 設立特殊融資目的公司架構
-Increase LTV 提高按揭成數
*Register first and we will arrange a call with you and whatsapp for you to submit further information!
*請先登記, 我們稍後會與您安排電話溝通, 及whatsapp 讓您稍後提供進一步資料!
Please share this event link to your friends https://propfinance.eventbrite.hk/
請分享此活動連結給您的朋友 https://propfinance.eventbrite.hk/
Join our Linkedin Group and see our latest updates here: https://www.linkedin.com/groups/10490780/
About the organiser
We Organize Happy hour for professional, PE/VC and tech experts