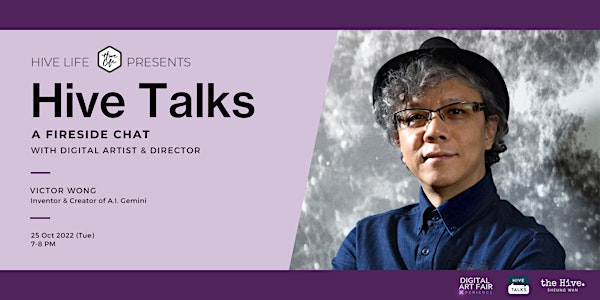 Hive Talks with Victor Wong
Join us for a special edition of Hive Talks in collaboration with Digital Art Fair as we speak to Digital Artist & Director Victor Wong.
When and where
Location
the Hive Sheung Wan 35 Hillier Street #33 Sheung Wan, HKI Hong Kong
About this event
Victor Wong is a Cross Media Artist, TVC Director, and the Inventor & Creator of the world's first AI Ink Artist, A.I. Gemini!
We will speak about his creative journey influencing the digital realm, the important relationship between technology and art, the founding story of A.I. Gemini, what to expect from the future of the art world, and much more.
📅 Date: Tuesday, October 25th, 2022
🕖 Time: 7:00pm - 8:00pm (GMT +8)
📍 Where: the Sheung Wan & Instagram LIVE on the Hive Hong Kong
🎟️ Tickets*: Free Admission
Award-winning cross media creator Victor Wong is renowned by his visionary treatment of unparalleled beauty to new media art and visual effects for movies and TV commercials.
His work stretches across paintings, sculptures, digital art, animation, film, AR, VR, and recently, artificial intelligence, aiming to blend new technology with Chinese philosophy about nature.
A.I. Gemini, Victor's creation, is an artificial intelligence that creates and paints with ink by means of geographical parameters, algorithms formulated for terrain formation, Chinese ink-painting techniques,and robot arms. Victor describes his interpretation of Chinese ink painting as "TECH-iNK," a breakthrough way to draw with Chinese ink in a 3D space. His first A.I. Ink Landscape series was named "ESCAPISM," which was exhibited at INK NOW in Taipei in 2019, gaining recognition from The Financial Times, BBC's Click, Reuters, Art-Net, Hong Kong Economic Times, and other notable publications.
Victor has a rich history of pioneering in the digital creative media industry in Hong Kong, creating the city's first full computer-generated TV commercial. He has served as a Digital Media Consultant for Hong Kong Cyberport and was awarded as one of Hong Kong's 10 most outstanding young people in 2005. Victor has achieved many local and international film awards, through his digital visual production company vfxNova Digital Productions Ltd, one of the best in Asia. Noteworthy awards include the New York Festival Awards, Tokyo JIAA Advertising Awards, Hong Kong Film Awards, and The Golden Horse Awards.
Victor is now promoting "TECH-iNK", having exhibited in 6 solo exhibitions and 14 group exhibitions in Hong Kong, London, Shenzhen, Xi'an, Beijing and Taipei over the past 3 years.
Digital Art Fair is the world's leading Web 3.0 fine art fair with a focus on innovative art created for every demographic that wishes to appreciate, create, and collect digital and NFT fine art. The inaugural edition of Digital Art Fair Asia Edition in Hong Kong in 2021 welcomed over 25,000 visitors and also broken art sales records by selling an eye-opening immersive room by Refik Anadol for HK$18 million and achieving HK$70 million in NFT and digital fine art sales, setting a new standard for the industry with the mission of ''advancing art and culture through technology.''
Dates: 20 October - 6 November, 2022
Join us for Hive Talks with Victor Wong as we dive into his creative journey, explore his vast experiences in the media industry, learn about the future of ArtTech, how he is using AI to innovate in traditional ink painting, and his valuable advice for the next generation of artists.
*drink tokens will be available for purchase at the event