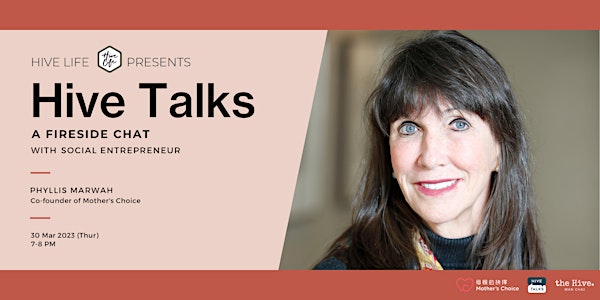 Hive Talks with Phyllis Marwah
Join us this Women's History Month for a special edition of Hive Talks with Phyllis Marwah, the Co-founder of Mother's Choice.
Date and time
Thu, 30 Mar 2023 19:00 - 20:00 HKT
Location
The Hive Wan Chai 23 Luard Road #21/F Wan Chai, HKI Hong Kong
About this event
We will speak to Phyllis about her work supporting children without families and pregnant teenagers in Hong Kong, from the beginnings of Mother's Choice, to the life-changing community initiative it has grown to become, to her work as a woman philanthropist in the city making a lasting impact. Get to know Phyllis' inspiring story and learn how everyone has the power to get involved, persevere, and enact lasting change.
📅 Date: Thursday, March 30th, 2023
🕖 Time: 7:00pm - 8:00pm (GMT +8)
📍 Where: the Hive Wan Chai & Instagram LIVE on @thehivehongkong
💳 Tickets*: Free Admission
Phyllis Marwah grew up in Taos, New Mexico, and has lived in Hong Kong since 1974. She is a mother to seven children and grandmother to 18.
As the Co-founder of Mother's Choice, Phyllis helped to grow the charity from a small group of concerned friends to an organisation that has impacted thousands in Hong Kong and inspired like-minded initiatives in India, China, and Cambodia. She was a Board Director of Mother's Choice from 2000 to 2022, and is now a member of their Advisory Council.
Mother's Choice is a local charity serving children without families and pregnant teenagers in Hong Kong with the vision to see every child in a loving family. They join hands with the local community to give hope and change the life stories of vulnerable girls and babies.
Join us for Hive Talks with Phyllis Marwah as we dive into her philanthropic journey, explore her experiences supporting and lifting up the local community, learn about her inspiring story, and her advice for women and the next generation seeking to make a difference.
*Drink tokens will be available for purchase at the event
About the organiser
The Hive Wan Chai is a members' coworking space located in the dynamic Wan Chai district on Hong Kong Island. We're home to a creative community with a lively vibe that's perfect for freelancers, entrepreneurs and young companies to meet other like minded people. Our Wan Chai space offers a fabulous, welcoming and friendly coworking space that has been carefully laid out to encourage new connections and creative energy across five floors and a beautiful outdoor sun terrace that's perfect for lunch, informal meetings and is where we hold many of our community events.