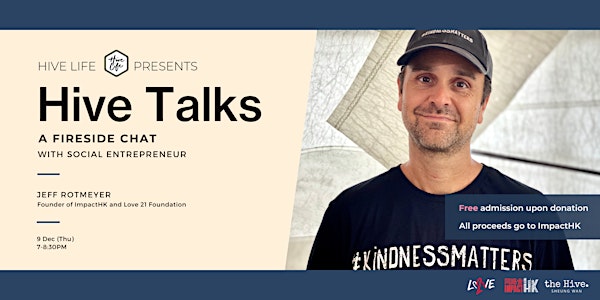 Hive Talks with Jeff Rotmeyer
Join us for Hive Talks with Jeff Rotmeyer, the Founder of ImpactHK and Love 21 Foundation.
When and where
Location
the Hive Sheung Wan 33-35 Hillier Street Hong Kong, HKI Hong Kong
About this event
We will speak to Jeff about his work helping people experiencing homelessness in Hong Kong, from the beginnings of ImpactHK, to the humanitarian initiative it has grown to, to the foundation of Love 21 Foundation in support of the city's Down syndrome and autistic community.
As Hong Kong gradually recovers from the impacts of the ongoing pandemic, it is important to express gratitude and give back to those less fortunate. Hear Jeff's inspiring story and learn how everyone can get involved and lift up those around us.
📅 Date: Thursday, December 9th, 2021
🕒 Time: 7:00pm - 8:30pm
📍 Where: the Hive Sheung Wan
💳 Tickets*: Free admission upon donation
*all ticket profits will be donated to ImpactHK
Jeff Rotmeyer is dedicated to serving people who are homeless in Hong Kong and sees his role as an enormous privilege. He founded ImpactHK in 2017 and thanks to the support of thousands of caring volunteers, they have collectively made a huge impact for those experiencing homelessness in Hong Kong.
Working as a full time teacher in Hong Kong, Jeff founded ImpactHK and Love 21 and continues to lead these charity initiatives in his free time. From a small group of volunteers getting together to embark on kindness walks to support the local community, ImpactHK has grown to a vast network working together to create a more equal Hong Kong.
Having worked with the Down syndrome and autistic community for over 13 years, Jeff has been overwhelmed by how much ability these individuals have. Jeff founded Love 21 into a charity that best supports these communities throughout their lives with holistic support and care.
ImpactHK works towards their vision of an inclusive Hong Kong where everyone has a safe place to call home and cares for their neighbour. They work with people experiencing homelessness to help them settle in a safe home, restore their mental and physical wellbeing, build their self-esteem and social capital, and discover their purpose.
Love 21 is a charity dedicated to empowering the Down syndrome and autistic community in Hong Kong through sport, nutrition, and holistic support programmes. Since the launch of their comprehensive nutrition programme in 2021, Love 21 provides one-on-one nutritional support on top of their sports classes. The foundation has also recently expanded into providing counselling support for parents.
#kindnessmatters