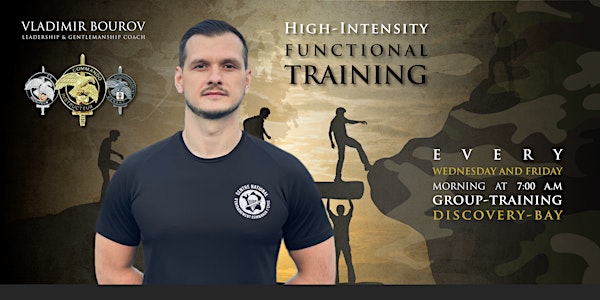 High-Intensity Functional Training
High-Intensity Functional Training. (Limited places)
When and where
Location
Discovery Bay Beach Playground 37 Seahorse Lane Discovery Bay, NT Hong Kong
About this event
Gentlemen,
If you want to live an exciting experience where you will push your physical and mental limits in an environment of cohesion, challenge, and competition, High-Intensity Functional Training is for you.
The training will be focused on increasing individual performance, strengthening teamwork, and developing leadership skills.
I use effective training methods obtained during my service in the prestigious elite military corps "French Foreign Legion", where I had the privilege to train with the best soldiers from all over the world.
If the words: respect, commitment, responsibility, and positivity are part of your life, I invite you to be my next recruit. I promise you two things:
I will give you that "push" you are looking for, and second, I will show no mercy in the process.
See you soon.
‼️ REQUIREMENTS ‼️
- Be punctual. Being on time is already late.
- Exclusively for MEN over 18 in good physical and mental health.
- All levels accepted.
- Positive mindset, respect for others, and commitment to the process are requirements for attending training.
- Bring your bottle of water and a small sports towel.
- Get ready to become dirty 😏
DTL:
- See you every Wednesdays and Fridays at 7:00 am in Discovery Bay.
- Regroupment Point Beach Playgroung.
INVESTMENT:
- 45 min. of your valuable time (FREE)
- Limited places ‼️
Know more about me:
During seven years of military service, I became a Sergeant and acquired high-valued specialties:
✅ French Commando (SOF) Technique Instructor "INST CDO,"
✅ Combat training and hardening in Desert area "CECAD,"
✅ Director of Sport Climbing "DSES,"
✅ Director of Fearless Parkour on land and water "DS PA" - "DSPAA,"
✅ Director of crossing in unequipped and unsecured natural or artificial environments "DS FCH,"
✅ Monitor Hand-to-hand combat adapted to high-intensity combat "Moniteur C4".
Before retiring as a veteran, I have trained hundreds of individuals of varied backgrounds, as well as mental and physical abilities. Today, being a Leadership & Gentlemanship Coach, I continue to guide men worldwide to achieve the best version of themselves and success in all aspects of their lives.