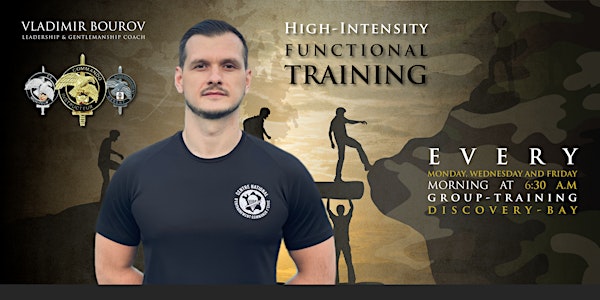 Multiple dates
High-Intensity Functional Training
FREE Workout Group High-Intensity Functional Training. (Limited places)
By Vladimir Bourov - Leadership & Gentlemanship Coach
Date and time
May 20, 2022 · 7am - June 30 · 7:15am HKT
Location
Discovery Bay Beach Playground 37 Seahorse Lane Discovery Bay, NT Hong Kong
About this event
Gentlemen,
If you want to live an exciting experience where you will push your physical and mental limits in an environment of cohesion, challenge, and competition, High-Intensity Functional Training is for you.
The training will be focused on increasing individual performance and strengthening teamwork.
I use effective training methods obtained during my service in the prestigious elite military corps "French Foreign Legion."
If the words: discipline, commitment, and positivity are part of your life, I invite you to be my next recruit. I promise you two things: I will give you that "push" you are looking for, and second, I will show no mercy in the process.
See you soon.
‼️ REQUIREMENTS ‼️
- Be punctual. Being on time is already late.
- Exclusively for MEN over 25 in good physical and mental health.
- All levels accepted.
- Bring your bottle of water and a small sports towel.
- Get ready to become dirty 😏
DTL:
- See you every Monday, Wednesdays and Friday at 6:30 am in Discovery Bay.
- Regroupment Point Beach Playground.
INVESTMENT:
- 45 min. of your valuable time (FREE)
- Limited places ‼️