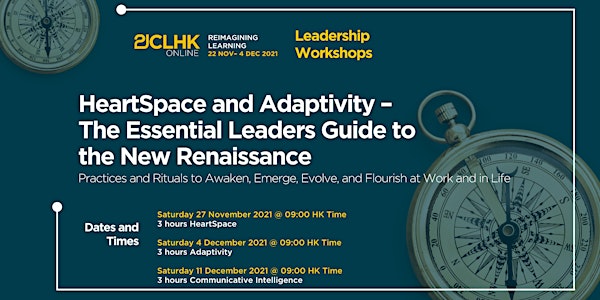 HeartSpace and Adaptivity
The Essential Leaders Guide to the New Renaissance - Practices and Rituals to Awaken, Emerge, Evolve, and Flourish at Work and in Life.
Refund Policy
Contact the organiser to request a refund.
About this event
Leaders frame. Leaders bring joy and are the source of inspiration in turbulent times. Based on the work in the new book HeartSpace – practices and rituals to Awaken, Emerge, Evolve, and Flourish at work and in life. A collective energy we call "spirit" emerges and propels the group forward, creating a new way of being. HeartSpace grows positive interdependent cultures based on vibrant interpersonal relationships.
This interactive three-part experience brings to participants the following forces:
HeartSpace - Saturday 27 November 2021 @ 09:00 HK Time
A set of practices used to grow individuals, grow groups and create a culture of equitable interdependence in order to work through challenges and get work done
Adaptivity - Saturday 4 December 2021 @ 09:00 HK Time
A way of being to address challenges not solvable with current knowledge and skills while also requiring shifts in personal and organizational values. Based on the work of Heifetz and Linsky, participants work an adaptive challenge using case study to surface the elements required to navigate the messy challenges schools face
Communicative Intelligence - Saturday 11 December 2021 @ 09:00 HK Time
Requisite to effectively lead. Participants practice the virtual communicative intelligence skills to address resistance and build rapport.
Facilliated By
Kendall Zoller
Sierra Training, International Trainer & Consultant
Author and co-author of several publications. Leads professional learning seminars and keynotes on facilitation skills, presentation skills and leadership around the world including Adaptive Schools and Cognitive Coaching.
Meta
Course Code: 21CLHK-LeadershipHeartspace-Nov21
Event Type: 21CLHK Online