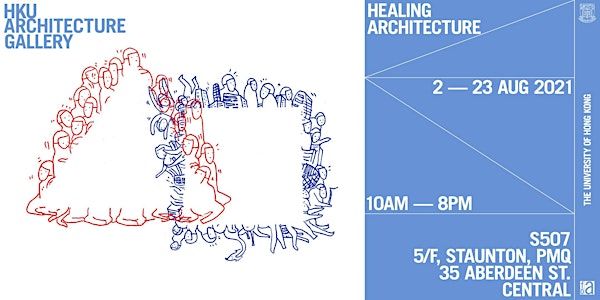 "Healing Architecture" Exhibition @PMQ
"Healing Architecture" is the latest collaboration between HKU Architecture Gallery and the artist-and-alumnus Ricky Luk (humchuk).
When and where
Location
S507, 5/F, Block A, PMQ 35 Aberdeen Street Central, HKI Hong Kong
About this event
The exhibition will draw on Ricky Luk's (humchuk) art practice that has called attention to mental health challenges in the urban environment. Ricky received his Master in Architecture from the University of Hong Kong in 2012 and has taken up a career as an illustrator and visual artist since 2014. His fourth book 累倒就躺著不要動 just released in mid-July 2021. Ricky's creative works also include collaboration with the Centre for Civil Society and Governance, HKU on a project called Focusing on SEN, and with the Department of Psychiatry, HKU for the development of HK Flow Tool, a mental health recognition tool. Currently, Ricky is researching the outlying island community as an artist-in-residence in the "Lamma Mia" public art project organised by the Art Promotion Office, LCSD.
Throughout the course of three weeks, visitors will see the building of the exhibition in progress with live in-situ visits with the artist. Open studio visits will be held every Thursday and Saturday. Please press "Register" to reserve a spot for you and your friends.
Should you have any enquiries, please contact Ms. Isabel Wong (Tel.: 3917 2146; Email: isabel.wong@hku.hk), or visit the HKU Architecture Gallery webpage.
Department of Architecture, The University of Hong Kong
Website | Facebook | Instagram
--------
是次展覽將延續含蓄的藝術創作,呼籲人們關注城市環境與心理健康的聯繫。含蓄在2012年自香港大學取得建築學碩士學位,及後在2014年開展插畫家和視覺藝術家的職業生涯。他的第四本繪本《累倒就躺著不要動》已於7月中旬出版。他曾多次與香港大學的伙伴合作,包括有公民社會與治理研究中心和精神醫學系;現為「南丫說:」公共藝術計劃駐島藝術家。此計劃由康樂及文化事務署主辦、藝術推廣辦事處籌辦,透過結合考察研究及多感官藝術形式,道說南丫島的人情風光和歷史往事。
參觀者可以在這三個星期的展期内與藝術家現場互動,及見證展覽的建構過程。每週四和六為工作室開放日,歡迎公眾透過此平台報名參與。
如有查詢,請聯絡香港大學建築學系黃愷瑩小姐(電話:39172136;電郵:isabel.wong@hku.hk),或瀏覽香港大學建築展廳的官方網頁。