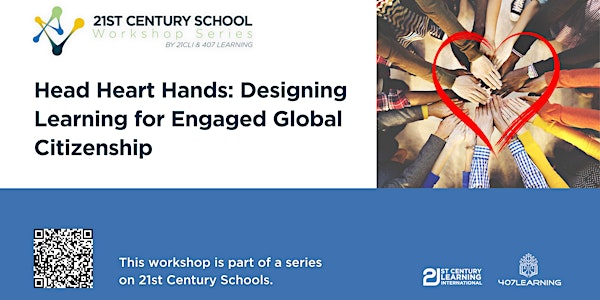 Head Heart Hands: Designing Learning for Engaged Global Citizenship
An overview of how individuals and leaders in schools can co-create learning experiences for students that center on community action
About this event
This workshop will provide an overview of how individuals and leaders in schools can co-create learning experiences for students that center on community action for harmony with nature, social cohesion, well-being, and sustainable development.
21st Century Schools recognize that they are inextricably and powerfully connected to a global community and that they need to find ways to bring the world into their schools to deepen the meaning and purpose of the learning in schools but ultimately to build a brighter future.
Inspire Citizens are on the forefront of transforming learning through their Empathy to Impact co-design system and framework. Their mission is to enable educators and learners to work together to shape a more equitable, joyful, and sustainable future
This workshop is a must for anyone that is
A classroom educator that seeks ways to bring greater compassion, ecological thinking, civic literacy, and sustainability into the classroom, while connecting learning outcomes to inner-development, real world challenges, and purposeful action.
A curriculum, sustainability, or service learning coordinator that is trying to help their school's vision and mission for student agency and global citizenship come to life through highly engaging, student-centered learning experiences.
A technology & innovation coach or librarian who leads or collaborates on projects with teachers that enhance literacies such as data, transmedia, information, futures thinking, and generative listening.
A school counselor who is working to spark mentoring experiences that center on empathy, civil discourse, student leadership, co-creation, and relevance in a complex world.
A future-focused administrator who is exploring proof-of-concept in building a culture of engaged global citizenship as a through-line for any and all school-wide, evolving learning communities.
It is a perfect opportunity for anyone interested in signing up for one of the courses or the full Master Teacher endorsement, as you can apply your course fee towards the signup.
Workshop Sections
HOUR 1 - Futures Thinking for Education - Imaginative exploration and engagement with future trends & foresight on reimagining schools, the teaching profession & transformative learning
HOUR 2 - Metacognitive Tools For Engaged Global Citizenship - Work to connect & co-design teaching and learning experiences with principles of harmony in nature, social justice standards & sustainable development goals
HOUR 3 - Civic Literacies & Inner-Development Goals - Hands-on learning for practicing & demonstrating skills & dispositions for greater harmony, wellbeing, humane technology & local community action.
Benefits of Attending
If you decide to attend any of the courses, 75% of the registration fee for this workshop will go toward the registration fee.
If you signup for the full "Educator Endorsement," you will receive a discount equal to 100% of this workshop registration fee.
For team tickets, the discount applied to the Inspire Citizens course will equal the workshop registration fee divided by the number attending from the school.
Workshop Facilitators
Steve Sostak
Following 15 years teaching elementary and middle school in the US, Peru, Malaysia, and China, Steve now specializes in embedding sustainable and inner-development into schools' thinking and being. Focusing on skills and experiences connected to empathy, happiness, civic literacies, humane media and technology, community assets, and student agency, he supports whole-schools, educators, and students to co-design strategic plans, learning experiences, and projects for good.
As co-founder and director of Inspire Citizens, Steve has years of international experience with diverse communities, environments and curricula, leading hands-on partnerships and workshops that are flexible to the needs of each learning community. His aim remains centered on empowering educators and students to shape a healthier self, classroom, education system, and world.
Ivy Yan
Ivy is a sought-after educational designer and facilitator based in Shanghai and Beijing. Advocating for happiness and wellbeing of human and nature as a whole, she works with schools and businesses on strategic consulting, leadership retreats, competency building, student-facing experiential programs and educator coaching.
She believes in holistic and progressive education through the heart, hands and head that is rooted in self-care, care for others and care for nature. A natural cross-pollinator who draws inspirations from her diverse trainings and experiences, she integrates deep ecology, traditional wisdom with design and innovation, futures thinking, and media studies in her work.​
Aaron Moniz
Aaron Moniz is one of the Co-Founders and Co-Directors of Inspire Citizens. Aaron helps schools around the world to develop whole school implementation programs for service learning and education for sustainable development as a means of developing global citizens. Aaron uses the Inspire Citizens' Global Impact Schools Self Study to conduct strategic visioning and goal setting to articulate best practice professional learning approaches and personalize them to the unique context of each school. Aaron also uses the Inspire Citizens Empathy to Impact Approach to enhance curriculum at any grade level or subject area, and he helps schools to design K-12 scope and sequences, scaffolding the development of service learning and active global citizenship. Alongside the Inspire Citizens team members, Aaron also helps to develop student leadership programs, and to facilitate the Inspire Citizens Master Teacher Endorsement; an online professional development program for global educators. Aaron believes that schools can become centers for community impact and strives to help schools see the large-scale impact that they can have by slightly optimizing their existing systems and centering on sustainable change.
OFFICIAL COURSE WEBSITE (Coming Soon)
Course Code: 21CSW-GlobalCitizenship-May2022
Event Type: 21st Century Schools Series