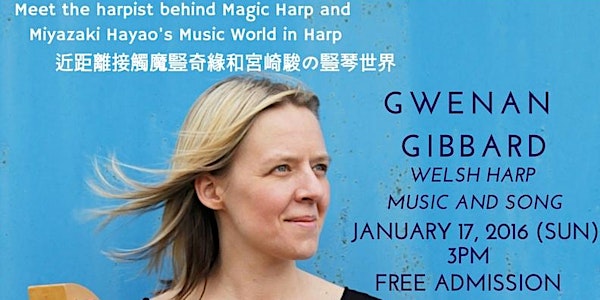 Harp Chamber Music presents: Welsh Harp Music and Song by Gwenan Gibbard
When and where
Location
Harpy Place by Harp Chamber Music Shop 5, 2/F, 7 Mallory Street, Wanchai, Hong Kong Hong Kong
Description
來Harpy Place近距離接觸《魔豎奇緣》和《宮崎駿の豎琴世界》音樂背後的豎琴家!
英國威爾斯豎琴家 葛南 吉芭德 (Gwenan Gibbard) 為大家帶來傳統威爾斯音樂,亦將選取早前灌錄唱片的動畫音樂演奏,萬勿錯過!
日期: 1月17日 (星期日)
時間: 3pm
地點: 灣仔茂蘿街七號動漫基地二樓五號舖 The Harpy Place
免費入場,請登記:


Presented by Hong Kong Harp Chamber Music, harpist Gwenan Gibbard, of Wales, United Kingdom, will introduce beautiful Welsh traditional music the first time in Hong Kong.

Harp, the national instrument of Wales, can be traced back as early as the 11th Century when there were few records of harp music and poems.

Gwenan Gibbard is also known for recording the records of Magic Harp and Miyazaki Hayao's Music World in Harp with her enchanting harp music. She will play a selected range of songs in these records besides sharing with you the Welsh traditional music.

Gwenan will also exchange with you her journey of playing harp and a CD sale and autograph session will be arranged on the day of performance.

Can't wait ? You can get a taste of the music at the links below:

《魔豎奇緣 Magic Harp》
https://www.youtube.com/watch?v=SGU96JnhdwA


《宮崎駿の豎琴世界Miyazaki Hayao's Music World in Harp》

https://www.youtube.com/watch?v=UMhQcQ9Sjeg

\
Date: January 17, 2016 (Sunday)
Time: 3pm
Venue: The Harpy Place, Shop 5, 2/F, 7 Mallory Street, Wanchai, Hong Kong (Main entrance on Burrows Street)
FREE ADMISSION

\

*Private Lessons available*
Details: Welsh traditional music, self-accompaniment and harp singing
Time: Jan 18th, 20th or 21st evening time.
Fee: $600/hour
Please call Harp Chamber at 3741-0202 for registration.
\
GWENAN GIBBARD
Gwenan Gibbard (Wales, UK), stands at the forefront of today's thriving Welsh traditional music scene with her unique, contemporary arrangements of Welsh traditional music and songs. She also specialises in the unique art of 'Cerdd Dant', the ancient form of singing Welsh poetry to the accompaniment of the harp, and is one of the few people who performs this music self-accompanied on the harp. Her performances have been far and wide, in numerous festivals and concerts in several countries, including Canada, North America and Europe, and her musical collaborations include recording projects and live performances with artists such as Cerys Matthews and Beth Nielsen Chapman. She has released three solo albums on the Sain label, her most recent, 'Cerdd Dannau', is an unique and exciting album which explores a new perspective on the tradition of 'Cerdd Dant'. Her newly released EP 'Y Gorwel Porffor' explores the cultural and musical connections between Wales and Patagonia, South America.

\
You must register through this link to gain entrance on the day of event.
For inquiries, please email harpyplace@gmail.com or call 2319-0620