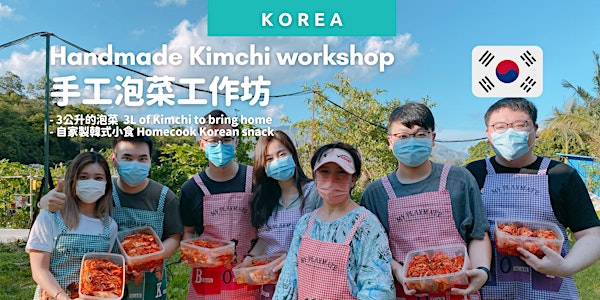 Handmade Kimchi workshop 手工泡菜工作坊
Bring home 3L of handmade Kimchi and try a special Korean treat made by our Korean chef
When and where
Location
Dream Impact 夢創成真 4/F, 760 Cheung Sha Wan Road #Unit C Lai Chi Kok, KOW Hong Kong
About this event
成日喺超市見到一罐罐ready-to-go嘅韓式泡菜,但你又有冇諗過試下親自醃泡菜呢?
今次我們請來了地道韓國人傳授醃泡菜的技巧和秘方,工作坊後你更能帶走你親手醃製,約3公升的泡菜,仲可以嘗試導師即場烹調的韓式道地小食添。
作為韓國嘅民族食品,泡菜係韓國人餐桌上嘅必備小菜,而香港人都漸漸愛上呢種發酵食品。鮮辣爽口嘅泡菜不單只用途廣泛,能加入於不同菜餚,泡菜更含有大量維生素與益生菌,有利於消化系統健康。
今個夏天熱到無乜胃口食嘢?快啲一齊參加今次嘅工作坊,手工製作嘅韓國泡菜一定可以令你胃口大開!
You see jars of Korean kimchi ready-to-go in supermarkets all the time, but have you ever thought of pickling kimchi yourself?
This time we have invited authentic Koreans to teach us the techniques and recipes for pickling kimchi, and after the workshop you can take away 3 liters of kimchi made by yourself and… what's more? Be prepared for a special Korean treat (Shhh~)
As the national food of Korea, kimchi is a must-have Banchan (side dish) on the dinner table, and often used as a condiment in various mains! As a fermented food, it is rich in vitamins and probiotics, making it fit for a healthy diet!
Don't have much appetite for food this summer? Join us for this hand-made kimchi workshop and you'll be sure to have a great appetite!
日期 Date:13/8/2022 (Saturday)
時間 Time :3-5 pm
地點 Venue : DreamImpact, Unit C, 4/F, 760 Cheung Sha Wan Rd, Lai Chi Kok
語言 Language:English/Korean/Cantonese (英文/韓文/廣東話)
名額 Quota:10
費用 Fee:$490
活動亮點 Event Highlight:帶走3公升的泡菜和現場吃導師烹調的韓式小食 Bring home 3L of handmade Kimchi and try a homecook Korean snack
—————————
不使用信用卡,其他付款方式:
恒生 Hang Seng: 788-002 681-883
戶口名稱 Account Name: INTER CULTURAL EDUCATION LIMITED
FPS 轉數快: ice@icehongkong.com
請輸入100% off優惠碼「EXPLORER」登記留位,再傳送付款証明到 WhatsApp 90395369 https://wa.me/85290395369
_________________
Organisation Introduction:
We are Inter Cultural Education (ICE), a social enterprise aiming to educate people to appreciate and be able to accept the cultural diversity of the world. ICE has helped more than 30,000 people in Hong Kong to connect and understand the world better through cross-cultural dialogues.
In the past 10 years, ICE has worked with people from more than 85 countries from all walks of life to promote the solidarity of a local community with the international community. Due to the situation under COVID-19, we are offering a special online programme called Explorers' Month, to bring the world to the public without leaving the city through a series of events. Follow our social media to learn more about world cultures: