About this Event
Asia, home to more than half the world's population and nearly half of the world's middle class, is predicted to have a bright future on many fronts. Sustainable, inclusive growth is the goal and making this happen will require a constant flow of new ideas and emerging innovators and entrepreneurs.
Inspiring the next generation of innovators and business leaders is the aim of Hack.Asia. Hack.Asia invites students and startups to design and develop technology-driven solutions to address current challenges faced by market-leading businesses in the region. Given their reach, access to resources, and renowned entrepreneurial spirit, the best Hack.Asia solutions – if adopted – can bring transformative change throughout Asia, and beyond.
This July, participate in the next edition of Hack.Asia and join us in:
Celebrating Hong Kong's creativity and entrepreneurial spirit
Showcasing the deep impact of innovative solutions
Unleashing the power of the tech ecosystem and their "make a difference" outcomes
Showcasing the combined strengths and benefits of the ecosystem
Are you ready for the challenge?
Find out more about the challenges published by Jardine Matheson, Accenture, Dairy Farm, Gammon, Jones Lang LaSalle, Mandarin Oriental, and more.
The Timeline
Applications Open / 26 May 2020
Applications Close / 20 June 2020
Results Announcement / 26 June 2020
Online Hackathon / 6-8 July 2020
The Prizes
Win up to HKD 50,000 cash prize
Internship opportunities for each team member with the sponsor
Opportunities to advance a Proof of Concept with the sponsor
A potential opportunity to perform a Proof of Concept with HSBC
Pre-events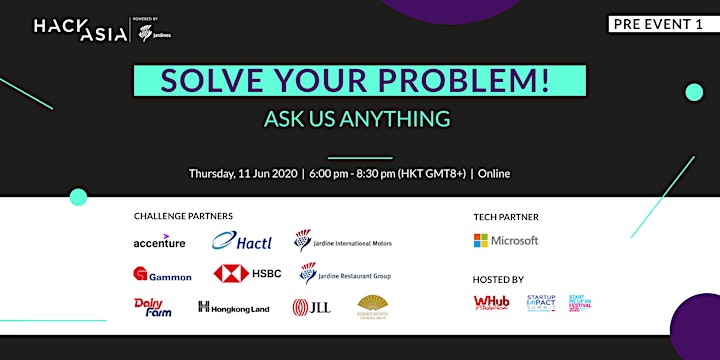 Ask us anything (related to the Hackathon)! The better you understand the problem statements, the better equipped you will be to develop a solution that is relevant, sticks and scales.
This first pre-event will zoom into the different problem statements, and give you an opportunity to engage and network with the companies providing these problem statements.
Date: 11 Jun 2020
Time: 6:00 pm - 8:30 pm (HKT) | Online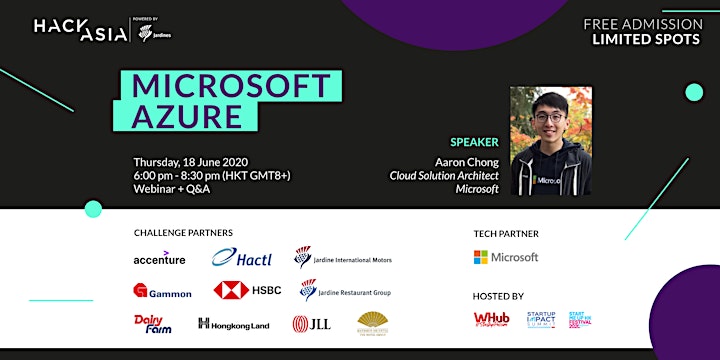 Get ready for Hack.Asia with Aaron Chong - Cloud Solution Architect at Microsoft HK, who will introduce Microsoft Azure.
Feature expert 🎙️ Aaron Chong (Cloud Solution Architect at Microsoft HK)who will introduce Azure, provide use cases and show you how you can leverage this platform to build your solution!
Date: 18 Jun 2020
Time: 6:00 pm - 8:30 pm (HKT) | Online