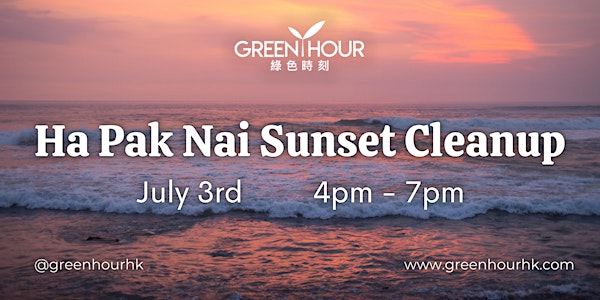 Ha Pak Nai Sunset Cleanup
Join Green Hour for an evening clean-up and enjoy the sunset together! 齊來參與綠色時刻的傍晚清理活動,並一起享受日落的美景!
When and where
Location
Ha Pak Nai Ha Pak Nai Yuen Long, NT Hong Kong
About this event
For our next cleanup we are trying something different!
我們下一個清理活動與別不同!
With its long stretch of mangrove beach, mudflats and calm, reflective waters, Ha Pak Nai is frequently touted as Hong Kong's best sunset spot. Flanked by mountains on one side, and views of Deep Bay on the other, this area is known for its biodiversity and the six-kilometre coastal trail along the western, sea-facing wetland; it's great for hiking, jogging or gentle cycling.
連綿的紅樹林泥灘,寧靜而波光粼粼的海水,下白泥海灘一直是以香港最美的日落景點而聞名。一側是延綿的山脈,另一側則是深灣景色,這個地方以生物品種多樣,六公里長的西向海岸徑,以及面海的濕地而著名,是遠足,緩跑或者騎單車的極佳地方。
The best route to this beach is to take the MTR to Yuen Long Station and then the number 33 minibus which stops at Tai Fung Street.
前往下白泥的最佳途徑是坐地鐵到元朗站,之後於泰豐街坐33號小巴前往到此海灘。
On arrival participants will be handed bags and gloves. We will begin the cleanup in small teams with enough time to finish before enjoying a beautiful sunset.
到步後,參加者將獲發袋子及手套。我們將以小組形式進行。我們有足夠的時間完成清理工作,並之後享受美好的日落景色。
As with previous events we have organised during the pandemic, we will follow current social distancing policies. During the event, It is mandatory to wear a mask at all times. Small groups of four will be formed to undergo the clean-up. We will maintain social distance, keeping a distance of at least 1.5 metres from groups of volunteers.
跟以往我們在疫情期間所組織的活動一樣,我們將會遵循社交距離規定。活動期間, 我們必須佩戴口罩。義工將會被分成四人一組進行清潔活動。我們將保持社交距離,確保與義工組別之間保持至少一點五米距離。
Event breakdown 活動細節:
Date 日期: July 3rd 2022 (Sunday 星期日)
Time 時間: 4:00pm - 7:00pm
Cleanup Location 清理地點: Ha Pak Nai
Please be aware that participants who have symptoms of Covid-19 should let us know as soon as possible that they are unable to join.
請注意,如參加者有冠狀病毒症狀而無法參加,請盡早通知我們。
A more sustainable world starts with all of us. Every one of us has the ability to make a difference, but that can only happen when we all work together to #InvestInOurPlanet.
一個可持續發展的世界由我們大家開始。我們每一個人都有能力去改變這個世界,但只有我們同心合力才可以令其發生。
Follow @greenhourhk on Instagram so you will never miss an update! 🌱
記得追蹤Instagram @greenhourhk,你將不會錯過最新的資訊!🌱