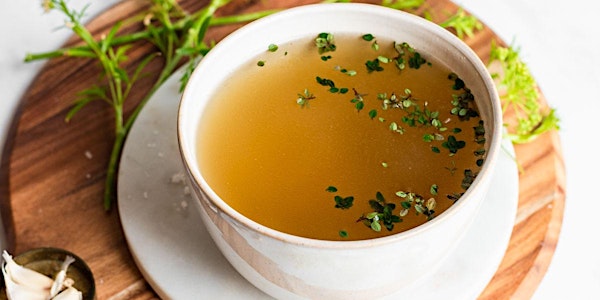 Gut-Healing Cooking Series: Pork Bone Broth Cooking with Shima Shimizu
This ancient healing method for the inner health gives you the comfort you need in any weather. The series uses pork, beef, chicken, fish.
When and where
Location
FoodCraft Room A, 16/F, Yiuga Factory Building, No.62 Victoria Road Kennedy Town Hong Kong Hong Kong
Refund Policy
Contact the organiser to request a refund.
About this event
*Class Cancellation Policy applies, please refer to the bottom of page
For thousands of years, various types of bone broths were used in different cultures to nourish and heal. There many not be scientific evidence to back how these remedies but there must be a good reason why these recipes have been passed down.
Bone broth claims that are known for its nutrients that may help with:
Better digestion and gut health from the support of the released glutamine regulating the gut bacteria.
Reducing inflammation
Improving joint health from the collagen
May support weight loss
Improving the quality of sleep from the glycine released
Why do bone broths help us heal?

It has to do with the healing composites like collagen, glutamine, and glycine that are released during the cooking process.
We also need to remember that when the bone, marrow, and connective tissues are boiled down, essential minerals like calcium, magnesium, phosphorous, and silicon are released into the broth which we can assimilate better than just chewing a bone!
In this Gut Healing Cooking Series (4 classes), we will cover:
Different bone broths (Beef, Pork Chicken and Fish)
How to make in a large batch and how to store
How to use them in recipes
We are excited to guide you through holistic healing by cooking with nourishing food♥️
WHAT WILL YOU LEARN?
How to Choose high quality pork bones for your broth
How to make pork bone broth in a large batch and how to store
How to use them in recipes
Pork Bone Broth Based Tonkotsu Ramen Broth
Pork Bone Broth Chipotle Sauce
Pork Bone Broth Based Red Quinoa "Risotto"

WHAT WILL YOU TAKE HOME?
Recipes
a 500ml jar of broth made in class
Food made in class
WHAT TO BRING?
Pen/Paper (iPad etc.)
Apron
DETAILS
Length of class: 2.5 hours
Venue: Room A, 16F, Yiuga Factory Building, No.62 Victoria Road, Kennedy Town
JOIN WITH YOUR HELPER?
With just +100HKD, you can bring along your helper. Please inform us once you confirmed your booking, arrangements can be made accordingly.
*This offer stands for domestic helpers on work visas only
CLASS CANCELLATION POLICY
We will confirm your seat(s) once all fees are received. Deadline for any cancellation or changes(eg. rescheduling) is 7 days prior to the scheduled date of the event. All fees will become non-refundable after the deadline. Cancellation requests should be made in writing at least 7 days prior to the class for any refund to be processed.
*The policy applies to sign-ups within the 7-day period before the scheduled event