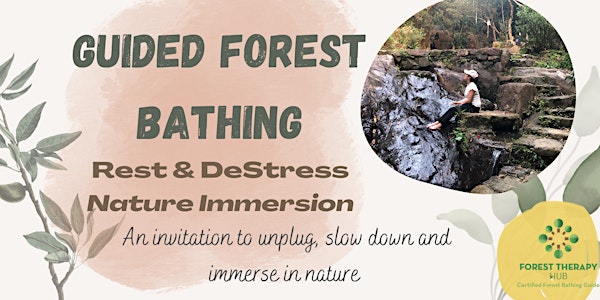 Guided Forest Bathing Nature Immersion, Lung Fu Shan
An invitation to Rest and DeStress
When and where
Location
Belcher's Falls 92 Pok Fu Lam Road Pok Fu Lam, HKI Hong Kong
Refund Policy
Contact the organiser to request a refund.
About this event
Rest and De-Stress incorporates a blend of both green (forest) and blue (water stream) spaces to provide a therapeutic experience to support your emotional, mental, physical, and spiritual health
2.5 -3 Hours Forest Bathing Nature Immersion with a Certified Forest Bathing Guide.
Forest Bathing, also known as Shinrin-Yoku, Shinrin in Japanese means "forest," and yoku means "bath". Shinrin-yoku means bathing in the forest atmosphere or taking in the forest through our senses.
Rest and De-Stress incorporates a blend of both green (forest) and blue (water stream) spaces to provide a therapeutic experience to support your emotional, mental, physical, and spiritual health.
What to Expect
This event is situated in a lush area in Pok Fu Lam, Lung Fu Shan and involve some level walking along streams and waterfalls
guided through a series of nature connection activities
experience the therapeutic effect of the forest and water stream/waterfalls on your health and well-being during the immersive experience .
no pressure to perform or finish each task or activity.
supported to create an experience that is comfortable for you and deepen your relationship with nature
short distance that require uphill walk
this activity is suitable for adults with moderate fitness level.
What Forest Bathing IS NOT
Forest Bathing is not a hike or a naturalistic walk but about immersing oneself in the natural environment using your senses. The walk distance will be no more than 2 km
Benefits of Forest Bathing based on scientific research:
+ Strengthen the immune system
+ Maintain cardiovascular health, lower blood pressure
+ Strengthened social relationships
+ Contributes to mental health: reduction of stress, depressive symptoms, and anxiety
+ Human feelings of "awe" - boost creativity and focus
LANGUAGE: English
Testimonials from past participants:
"Being in nature is a truly getaway for our body mind and soul. With the slow pace and using our 5 senses to interact with nature by intention, this allows me a complete luxurious 2.5hrs detox with Carmen as our gentle and passionate forest bathing guide! What a wonderful experience!"
"I learned to connect with nature and felt peaceful and relaxed"
This is a public event. For private individual or group sessions email info.catchabreath@gmail.com
** Once payment is confirmed, you will need to complete a registration form. Your spot is secured when registration and payment are received**
Weather & Cancellation
When your registration is confirmed we will share with you the adverse weather policy. The weather is an additional element of fun in our session, as we play with what the weather offers! But we will always have your safety in mind.
This event is non-refundable. In the case of the event being canceled due to weather or for personal reasons, your ticket is transferrable to an alternate date under the same event with no additional cost.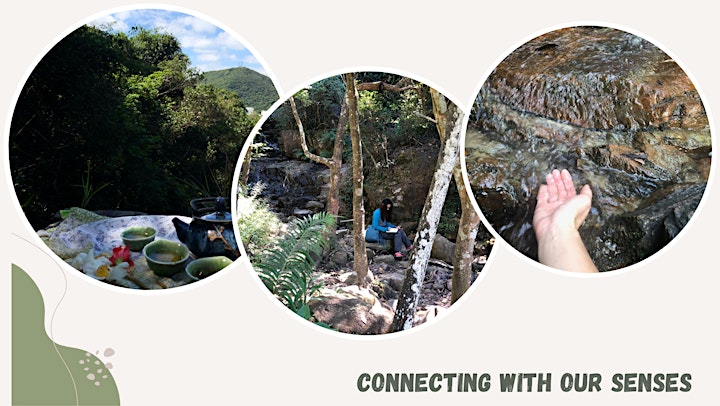 About Your Guide
Carmen is a certified Forest Bathing Guide and Forest Therapy Practitioner part of a global network of professionals at Forest Therapy Hub. She is also the founder of Catch A Breath Nature Well-Being.
She has been in the educational sector in Hong Kong for more than 10 years and in her free time, she would spend countless hours hiking in the mountains, sitting by a stream, and immersing in the natural environment. She attended her first Forest Bathing walk in Hong Kong as a participant and this experience inspired her to take a pivotal step to pursue training and share this work with others. 
Starting Catch A Breath Nature Well-Being is a dream come true for Carmen to bridge the gap between her appreciation and love of nature and her passion to serve the community. Her mission as a guide is to partner with nature and walk alongside others on their journey toward thriving and flourishing.
Follow Catch A Breath Nature Well-Being to receive news on upcoming nature-based well-being workshops and forest bathing sessions for couples, children, and families.