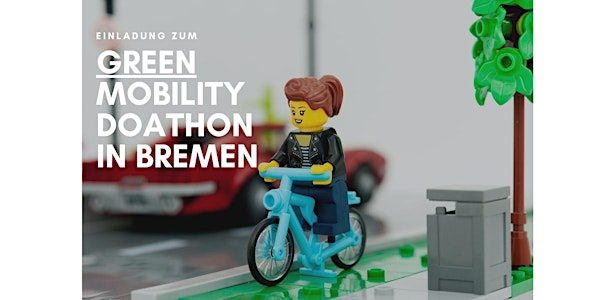 Green Mobility DOathon in Bremen
Gemeinsam wollen wir Synergien bilden und innovative, ganzheitliche Ideen für eine umweltgerechte Mobilität in Bremen entwickeln.
When and where
Location
Die Sparkasse Bremen - Filiale Universitätsallee 14 Campus 28359 Bremen Germany
About this event
In einem ersten Workshop Anfang September wurden in mehreren Arbeitsphasen die zentralen Herausforderungen bei der Entwicklung von klimaneutraler Mobilität in Bremen identifiziert. Initiator des Workshops war die Sparkasse Bremen, die gemeinsam mit den Expert:innen von The DO, die sich auf Nachhaltigkeit und Innovation spezialisiert haben, verschiedene Akteure aus Wirtschaft, Vereinen, Wissenschaft, Start-ups und ÖPNV zusammenbrachten.
Im nächsten Schritt wollen wir diese Herausforderungen angehen, gemeinsam Lösungen entwickeln und in anschließenden Sprints testen.
Dazu wollen wir Dich zu einem sog. DOathon einladen. Der DOathon ist ein 1-tägiger Workshop mit dem Ziel, neue Lösungsbilder zu den identifizierten Herausforderungen und deren Umsetzung zu erarbeiten. Nach dem Workshop geht es darum, die Lösungsansätze im Sprint-Modus auszuarbeiten und zu pilotieren.
Beispielhafte Challenges, die bereits ko-kreativ identifiziert wurden und nun eine Lösung wollen
Wie gelingt es uns Nischen zu finden, um innovative Verkehrskonzepte umsetzen zu können und dabei generationsübergreifend und inklusiv zu denken? Wie kann ein Experimentierlabor dafür aussehen?
Wie können wir Anreize schaffen, um das Auto stehen zu lassen und umweltfreundlichere Alternativen zu nutzen?
Wie können wir relevante Services verknüpfen und Mobilität mulitmodal gestalten, um einen smarten und flüssigen Transport zu ermöglichen?
Dein Beitrag & Dein Mehrwert
Wir brauchen Deine Stimme und Know-how, um langfristige Lösungen zu schaffen, umzusetzen und nachzuhalten. Gemeinsam für uns, für Bremen und die Welt - emissionsfrei und umweltgerecht.
Du bist nicht nur Teil einer relevanten Bewegung mit nachhaltigem Impact, sondern hast die Möglichkeit, Dich neu zu vernetzen, Synergien zu bilden und dabei neue Business Perspektiven zu gewinnen.
Wir freuen uns auf Dein Kommen.
Bei Fragen gerne direkt an: liliana@thedo.world