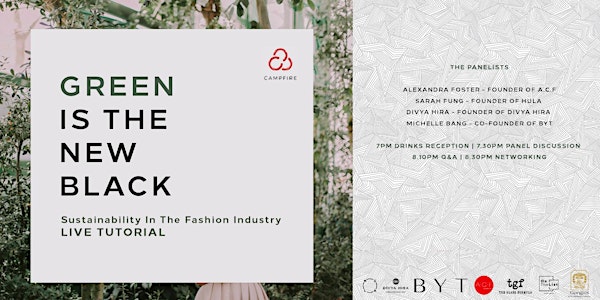 Green is the new Black: Sustainability in the Fashion Industry
When and where
Location
Campfire Creative 5/F Remex Centre, 42 Wong Chuk Hang Road, Wong Chuk Hang hong kong Hong Kong
Description
Campfire Collaborative Spaces is thrilled to announce an upcoming panel discussion titled "Green is The New Black" in collaboration with the founders of A.C.F Clothing, HULA, Divya Hira and BYT. Join us for an enlightening, informative and dynamic live talk along with bubbles & nibbles at 7pm, September 14th. Mingle with industry game changers and fashion insiders as they discuss the complex issues and creative solutions at play in the sustainable fashion market; where the industry is heading and why all brands & consumers should care more about sustainability.
PROGRAM
7:00PM – Welcome drink
7:30PM – Panel discussion begin
8:10PM – Q&A
8:20PM – Networking session - drinks will be sponsored by The Glass Formula and food will be sponsor by Ganga's
The clothing industry is the second largest polluter in the world ... second only to oil. Long and varied supply chains of production, raw material, textile manufacture, clothing construction, shipping, retail, use and ultimately disposal of the garment all contribute towards its colossal carbon footprint. Globalization and fast fashion are key pain points, the fashion retail industry and media are creating an extreme demand for quick and cheap clothes; your shirt is likely to have traveled halfway around the world in a container ship fuelled by the dirtiest of fossil fuels.
A 2017 international study by Unilever revealed that brands with a sustainable backbone are growing 30% faster than their traditional counterparts with 33% now choosing to buy from brands they believe are doing social or environmental good. 78% of shoppers in the U.S. say they feel better when they buy products that are sustainably produced.
The importance of sustainability and its benefits are real. Let's start the conversation here in Hong Kong, the gateway to China and one of the busiest shipping ports for the apparel industry. Join our panel and discuss current opportunities, challenges, solutions, and benefits fashion corporations and entrepreneurs can consider to improve their offering.
Hosted at Campfire Collaborative Spaces, Asia's fastest-growing network of industry focused shared spaces. Get to know Alexandra Foster; Founder of A.C.F, Sarah Fung; Founder of Hula, Divya Hira; Founder of Divya Hira and Michelle Bang; Co-Founder of BYT to learn about sustainable practices and the future of fashion.
DIRECTIONS
5/F Remex Centre, 42 Wong Chuk Hang Road
MTR Wong Chuk Hang Exit A1