Event Information
Location
Eaton Club Central
5/F, Champion Tower
3 Garden Rd
Central, HKI
Hong Kong
Create innovative and sustainable solutions for the hospitality industry. Even get a chance to win seed money to fund your project!
About this event
The GREEN Hackathon and Innovation Night 2022 is organised by GREEN Hospitality and funded by the Innovation and Technology Commission. This event is a unique space for innovators, hospitality employees, and youth to collaborate and create practical solutions for the environmental challenges faced by the Hospitality industry. The theme this year is "Circularity in Hospitality - Transform Waste into Innovative Marketable Products & Solutions". Teams will be encouraged to focus on creating solutions either on Food, Textile or Packaging innovation.
**We will regularly review and update the dates as the pandemic situation evolves**
For more updated details: www.greeneventsasia.com
1. Kick-off
09/Mar/2022 - 18:00-21:00
Venue: The Hive, Sheung Wan
What will I do there?
Deepen your knowledge, get inspired and meet your potential team mates at the Hackathon Kick-off. Expert speakers will share their knowledge on the Hackathon themes of textile innovation, food tech and sustainable packaging. Using his own research, Dr. Shauhrat Chopra, Assistant Professor from the School of Energy and Environment, CityU will explain the concept of resource circularity, and how it can be achieved by sustainable product design and life cycle assessment. Food Tech Program Manager of Brinc, Natalie Lung will give the latest insights and trends around food innovation whereas Sonalie Figueiras, CEO and Founder of Green Queen will share about sustainable packaging solutions and trends. From textile innovation, we have Angus Tsang, Researcher at the Mills Fabrica, who will demonstrate the newest learnings in the techstyle space. We're sure you will be teeming with ideas by the end of the evening!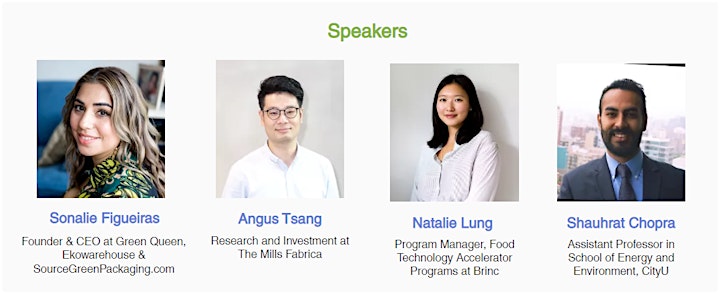 2. MakerBay Design Thinking Workshop
15/Mar/2022 - 14:00-18:00
@MakerBay Officer, Tsuen Wan
What will I do there?
Now that you know what improvements are needed in the hospitality industry, it's time to come up with an idea! Organised by MakerBay, they will lead you through what Design Thinking is and how to come up with innovative ideas, products, services, and business models. Design Thinking is not as easy as putting sticky notes in meeting rooms, and this workshop will offer you the chance to experience it firsthand, hands-on, in Hong Kong's best-equipped Innovation space, "MakerBay" in Tsuen Wan. Follow the MakerBay team that has been trained directly from the source: the Stanford School of Design and learn to collaborate, systematically come up with new ideas, and also prototype and test them! There is limited capacity for this workshop. Participation is on a first-come, first-served basis.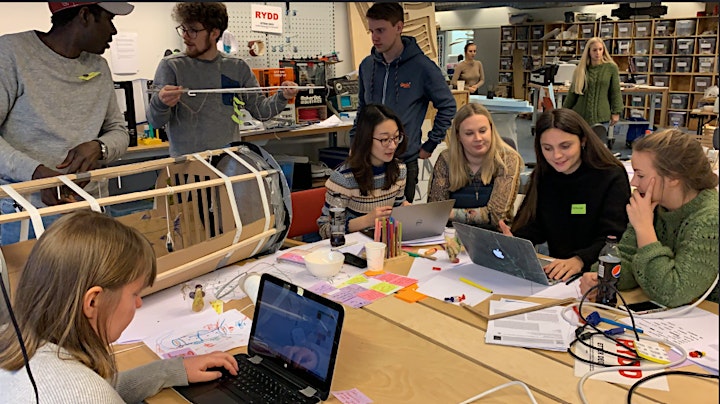 3. Pitching Clinic
04/Apr/2022 - 07/Apr/2022 - By Appointment
@Zoom
What will I do there?
Public speaking is a singular source of anxiety for those competing in pitching competitions. But developing strength in it is often both very possible and what determines which teams win competitions. To prepare you for the presentation at the Hackathon Day, we are inviting JP Stevenson, business model innovation advisor to Fung Group companies. He also successfully led numerous teams in global pitching competitions, including Google & University of Southern California's Global Consulting Challenge, which his team won in 2016. JP's pitching clinic will focus on both the theory and practice behind presentations.
4. Hackathon Sprint
09/Apr/2022 - 09:00-17:00
@Eaton Club Central
What will I do there?
With your ideas ready and your pitching skills leveled-up, the Hackathon Day is the last push till the shortlisting presentation at the end of the day. Work away with your teammates on the presentation deck and prepare your pitch while we fuel you up with snacks, sandwiches and drinks. Your mentors will also be on site for support and advice. Held in Eaton Club Central, the venue provides all the views you need to post on your social media. What a perk!
5. Innovation Night
13/Apr/2022 - 19:00-22:00
@Eaton Club Central
What will I do there?
Shortlisted teams will go head-to-head for a final pitch in front of our judges from the start-up accelerators, textile innovation, impact innovation, hotel industry. Our panel of judges are: Edwin Keh, CEO of Hong Kong Research Institute of Textile and Apparel, Carmen Ng, Director of Sustainability at Langham Hospitality Group, Cesar Jung-Harada, Founder of MakerBay and Senior Lecturer at HKU, Helga Vanthournout, Founder of Wealth of Flows Consulting, Carine Pin, Co-Director of the Mills Fabrica and Guillermo Ginesta, Managing Director of Greater Bay Area, Brinc. Winning teams will receive attractive prizes including Cash Prizes from Invest Hong Kong and a Summer Internship at the Mills Fabrica. Give your support to our young entrepreneurs and network with experts from hospitality, start-up and innovation arenas.
Meet the Mentors!
We have lined up a team of 12 mentors who are all experts in their field, all passionate about sustainability and are creating solutions of their:
Sustainable Packaging: Founder of Green Queen, Sonalie Figueiras, Co-founder of Planeteers, Aditi Deodhar, Data Scientist at ADM Capital Foundation, Ashley Bang, Founder at Circular City, Tim Parker, Charlotte Breyer
Food Technology: Expert in Food Waste Management and Innovation, Dawn CHUI, Founder and CEO of IXON, Felix Cheung
Textile Innovation: Research and Investment at The Mills Fabrica, Angus Tsang, Incubation and Ecosystem at The Mills Fabrica, Maggie Luk, Research and Investment at The Mills Fabrica, Jenna Chow, Founder at Bamboa, Julia Washbourne, Co-founder and CEO, Unspun, Walden Lam
Hotel Industry: Executive Director of Sustainability & Environment at Sudima Hotels, Kanika Jhunjhnuwala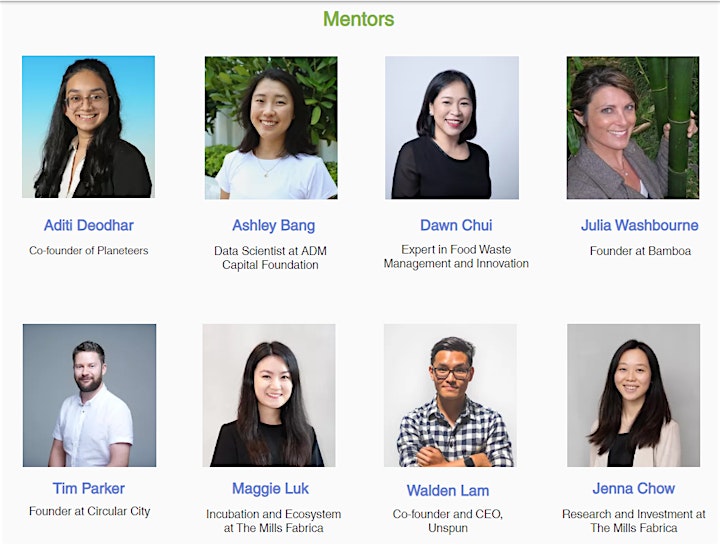 The Prizes
Winning teams will get Cash Prizes from Invest HK and a Summer Internship at the Mills Fabrica
Other than these prizes, all participants will also receive a goodies bag and a valuable chance to connect with professionals in various industries.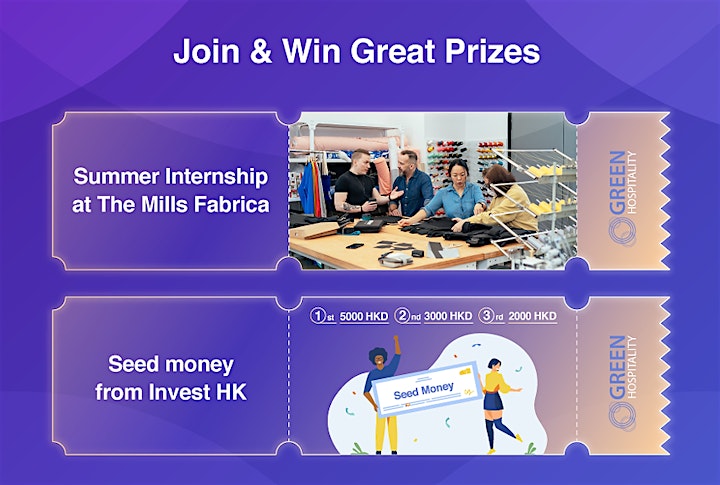 Date and time
Location
Eaton Club Central
5/F, Champion Tower
3 Garden Rd
Central, HKI
Hong Kong