Good Lab 好概念市集 x 共享節 | Good Marketplace x ShareFest

Sunday, 13 December 2015 from 14:00 to 18:00 (HKT)
Who's Going

Loading your connections...
3 of your friends are going.
Share it to get more people on board.
Share

Sara Haughty
San Francisco, California

Luke Picard
London, United Kingdom

Rick Vespucio
Florence, Italy
Event Details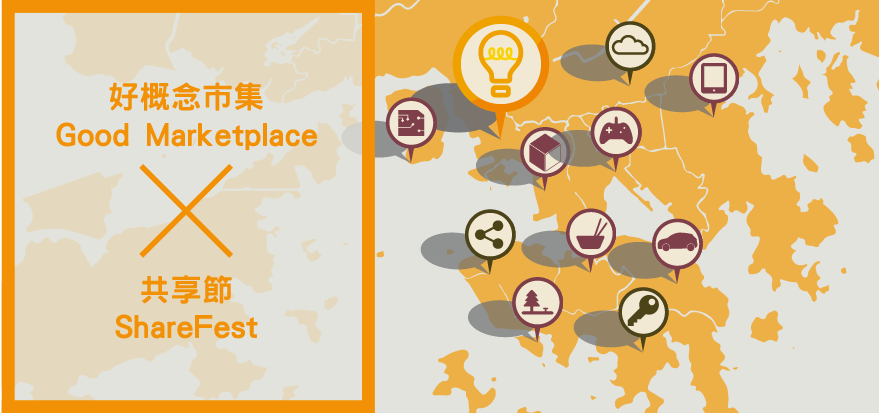 SHARING IS THE NEW BUYING!
這一次Marketplace X ShareFest活動將有不同環節,既能了解會員的創新計劃及意念,更包括市集、漂書、交換衣櫥、真人圖書館、技能嗜好配對,以及旅行講座經驗分享,推廣共享理念。
We have a variety of events to let you know innovative ideas of Good Lab members, and promote the wonderful advantages of sharing!
======================================================
活動時間表 EVENT TIMETABLE
時間
TIME
好概念市集
MARKETPLACE
共創節
SHAREFEST
2:00 - 2:30PM
【開幕對話: 建立創新及共享城市】
【OPENING x BRAINSTORMING DIALOGUE:
Building an innovative & sharing city】

由黃英琦、阮耀啟主持,一起構思理想城市
Tell Ada & Terence what is your dream city
2:30 - 3:30PM

【市集】【MARKET】
好單位創業會員
服務和產品展示
Showcase of
Good Lab
startup members'
projects & products


【漂書】
【BOOK SHARE】
帶同並交換書本,
分享閱讀的樂趣
Exchange books,
stories & fun!


【交換衣櫥】
【CLOTHING WRAP】
愛打扮
也要愛環保
Be fashionble
& green!

加油音樂
木一番
好家庭菜園
菜園村有機蔬菜
團結‧升級再造
車衣合作社

及更多....
AND MORE!


【真人圖書館 HUMAN LIBRARY 】
@Hub B (以廣東話進行 Conducted in Cantonese)

一起閱讀三本改革社會,改變自己的真人故事書
Share three stories of social engagement

3:45 - 4:45 PM

【技能嗜好速配 HOBBY/SKILL SPEED DATING 】
@Hub B (以廣東話進行 Conducted in Cantonese)

想學一門嗜好、興趣?想有更多人認識你的專長?Hosbby的Christine可能替你找到同好!
Inspire others with your hobbies and skills with Hosbby!

5:00 - 6:00PM

【旅行經驗分享 ADVENTURE SHARING FROM ABROAD 】
@Hub B (以廣東話進行 Conducted in Cantonese)

女仔旅行,可以安全兼突破自己。「一個女仔去旅行」成員將會推介各地市集,介紹何謂永續旅遊,討論可否共享旅行用品。歡迎攜同你的見聞!
How to travel responsibly and sustainably?

 
 
 
嘉賓講者 Speakers
真人圖書館
 
Alex Kwan
創立免費的物資送贈平台FreeSth,鼓勵大家物盡其用及宣揚禮物經濟概念。他之前是港鐵工程師,後來辭工,並開發FreeSth。FreeSth 設有網頁版及Android手機應用程式。
Jeffrey Andrews
印度裔香港人,首批香港註冊的少數族裔社工。自小遭本地人歧視,會考成績差,犯事,幾乎入獄留案底,幸得母親和社工支持,努力讀書,幫助他人,完成社工課程。他長期爭取適合少數族裔的教育和其他種族平等政策。
Nise Sou
「潔癖仔」的基督徒,2011年參加「平等分享行動」,探訪無家者,老人家及街坊,以此操練,突破自己。參與後更佩服上一代人的堅毅,欣賞勞動者貢獻香港。後來她更深入接觸不同人的故事,尤其被女性故事所觸動,因此近年則多關注女性議題,了解及擴大女性對自身的想像。
技能嗜好速配
 
Christine @ Hosbby
一個網上平台,為他人製造機會,分享各種嗜好、興趣和技能,同時賺取收入,將興趣成為生意。Hosbby相信每個人也可充分發揮能力。過往和現時活動包括製働月餅、英文教師於沙灘教瑜伽、製造業人士分享天台種植,酒吧老闆在工餘舉辦雞尾酒工作坊。Christine So在2015年創立Hosbby,之前她有份創辦 Holga Inspire,統籌超過30次藝術相片展覽。她擅於演說、群體建立和公共關係,經常參與公益事務。
旅行經驗分享
 
一個女仔去旅行
臉書專頁,由幾位年輕女性共同管理。她們鼓勵女性獨自出外探索。專頁不定期舉辦講座,提供資訊,與旅行者交流,幫助人們深入理解不同地方的文化和生活方式,提倡「永續式」旅行。
 
 
 
創辦機構 Founding Members
網址 Website
對話體驗
Dialogue Experience
www.dialogue-experience.com.hk
香港社會創投基金
Social Ventures Hong Kong
www.sv-hk.org
MaD 創不同
Make a Difference
www.mad.asia
仁人學社
Education For Good
education-for-good.com
社企民間高峰會
Social Enterprise Summit
ses.org.hk
社會創業論壇
Hong Kong Social Entrepreneurship Forum
www.hksef.org
言論自由行
Solution On Wheels
www.hksow.hk
如有興趣參與或任何問題,歡迎與我們聯絡 Contact us at: info@goodlab.hk / 3996 1935For more information, check out our facebook page!請留意我們的facebook, 更多詳情會於稍後公布。
Do you have questions about Good Lab 好概念市集 x 共享節 | Good Marketplace x ShareFest?
Contact Good Lab 好單位
When & Where

The Good Lab
L1, 500 Tung Chau Street, Hong Kong

Hong Kong SAR China

Sunday, 13 December 2015 from 14:00 to 18:00 (HKT)
Add to my calendar
Organiser
Good Lab 好單位
Good Lab 好單位 是香港首個社會創新基地。
在Good Lab的共用工作空間 ,我們為創革者建立社群,透過學習、分享和社會實驗,推動創新意念的實踐。

在Good Lab社會創新學院,我們 致力向民商官學各界推動社會創新教育和發展,培育跨界領袖,一起為社會問題共創解決方案。

我們由香港7個社會創新平台共同發起,包括:對話體驗、香港社會創業論壇、創不同協作、社企民間高峰會、香港社會創投基金、仁人學社及言論自由行。

-----

The Good Lab is Hong Kong's first Social Innovation hub. 

We build a community of changemakers at our co-working spaces by providing learning programmes and experimentation opportunities for the development of innovative ideas.

We ignite interest and encourage tri-sector collaboration to solve complex social and environmental problems through our Social Innovation Academy.

We are founded by 7 key players in the Hong Kong social innovation ecosystem: Dialogue Experience, Hong Kong Social Entrepreneurship Forum, Make A Difference Institute, Social Enterprise Summit, Social Ventures Hong Kong, Education for Good and Solutions On Wheels.