About this Event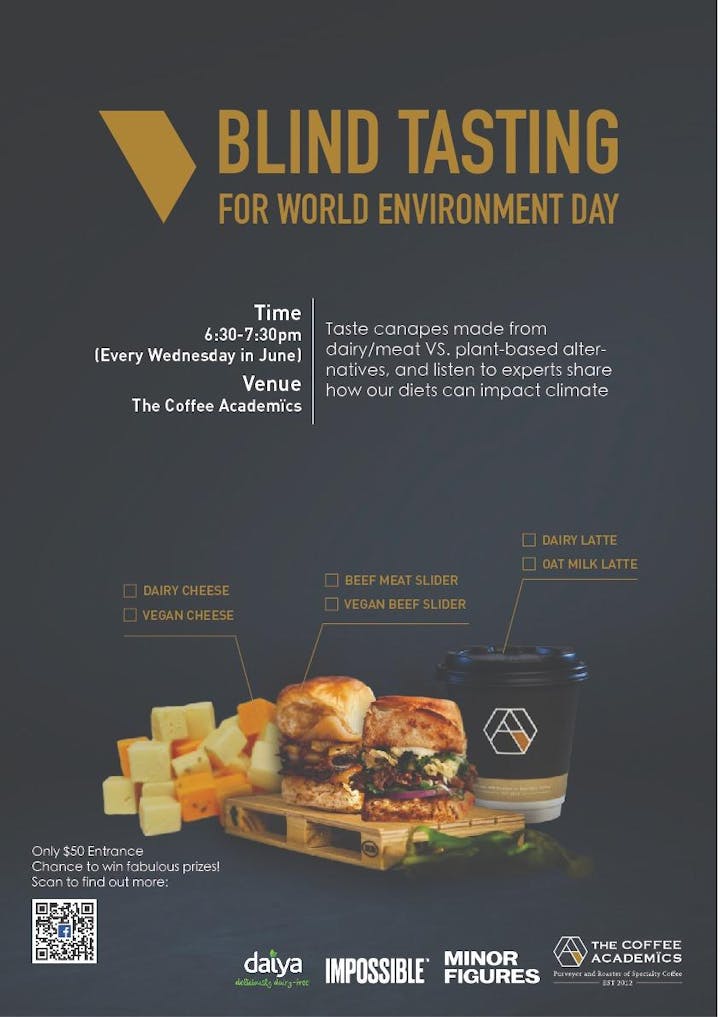 In celebration of the World Environment Day on 5 June 2019, The Coffee Academics invites you to participate in our BLIND TASTING COMPETITION to taste the difference between foods made from dairy/meat and those from plant-based alternatives.
For a nifty $50, you can taste a canapé set of Lattes, Cheeses, Sliders and Desserts, and you get to learn from experts about the positive environmental impact of switching to a plant-based diet. What better way to spend a Hump Day Happy Hour!
Additionally, big prizes will be given to those who correctly guess 3 items, or all 4 items! They include The Coffee Academics gift vouchers, Minor Figures collectible pins, T-shirts, Green Common eShop coupons, and much more!
This is only the 1st in a series of 4 events, if the tickets are sold out (we expect them to be quickly!), check the same events set at different dates: 12, 19, 26 June.
Blind Tasting Set:
Dairy Challenge, sponsored by Minor Figures
Burger Challenge, sponsored by Impossible Meat
Cheese Challenge, sponsored by Daiya
Ultimate Challenge (find out on the day!)
All participants will receive FREE coupons to redeem plant-based items or upgrades at The Coffee Academïcs outlets.