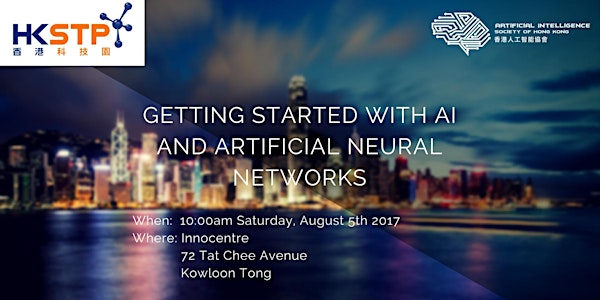 Getting Started with AI and Artificial Neural Networks
By The Artificial Intelligence Society of Hong Kong
Date and time
Sat, 5 Aug 2017 10:00 - 15:00 HKT
Location
Innocentre 72 Tat Chee Avenue Kowloon Hong Kong
Refund Policy
Refunds up to 1 day before event
Description
Are you a developer and have been wondering what all that talk around AI is all about? Have you heard tons about it and are curious to find out more? Maybe you're even thinking of getting into AI and are wondering where to start?
Come learn the basics of deep learning and neural networks by building your first multi layer network in this guided workshop. No previous machine learning is required, and you will leave with both a conceptual understanding of the hottest topic in machine learning and working code for a neural network to project continuous data like inventory demand, or categorical data such as which employees are at the risk of leaving the company.
10:00 am - 45 min: Introduction to AI
by Gerardo Salandra
What is happening the world and success stories
10:45 - 15 min: Break
11:00 am - 90 min: Statistics, the foundation of AI
by Bernhard Zech
Fundamentals of AI and Machine Learning
12:30 - 45 min: Lunch Break

1:15 am - 90 min: Your First Neural Network
by Matt O'Connor
Practical Workshop to build your first neural network
About the instructors
Gerardo Salandra (Jerry)
CEO and founder of Rocketbots (
www.rocketbots.io
), a Hong Kong based company specialized in developing AI-powered chatbot solutions. With previous experience in IBM, Google and several fast-growing startups, he has accumulated profound expertise in artificial intelligence, growth hacking, and digital marketing. Former Head of Growth at NDN Group, leading the marketing technology and business automation initiatives.
Bernhard Zech (Bernie)
Several years of experience working with AI and machine learning technologies. Now with the PwC Ventures team building emerging technologies. With his experience in a range of different industries, he combines business acumen with technology and data knowledge.
Matt O'Connor
Matt O'Connor is a developer, Professional Scrum Master (PSM I), and Professional Scrum Product Owner (PSPO I) based in Hong Kong. He has experience overseeing algorithmic trading for a $157 billion USD portfolio, managing teams of 30+, and has been published in print and online for a variety of publications, most notably The New York Times. His areas of expertise include web based languages, Agile, Scrum, finance, mindfulness, and data analytics. Deep learning and AI are particular areas of personal interest and current growth.
About the organiser
We are a society dedicated to the further development of AI technologies and adoption in Hong Kong. Join our monthly meetups and learn more about how Artificial Intelligence and Chatbots can help you grow your business. We also organize workshops for the tech savvy audience, who wants to get practical knowledge on how the technology works, and it's programmed.