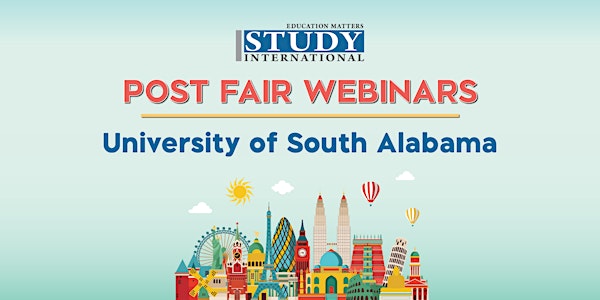 Get Your Dream USA Degree at University of South Alabama!
Be a Jaguar and study in the USA with 4,000 students and more than 125 academic programs located in Mobile, Alabama!
About this event
With a faculty dedicated to helping students reach their maximum potential, the University of South Alabama is large enough to offer a diverse education, with more than 125 academic programs and 230 campus organizations. Situated in the prime location of the Gulf Coast, the area provides limitless opportunities for education and recreation. Students can enjoy the university's proximity to beautiful white sand beaches, while the vibrant cities of New Orleans and Atlanta are easily accessible by car.
USA has a robust Student Academic Success program, including Career Services, a Center for Academic Excellence, and a First-Year Advising Center. The Center for Academic Excellence offers individual and small-group peer tutoring for a large variety of general education courses, as well as writing consultations for courses in any discipline.
Lastly, USA is proud of their Southern hospitality. Students enjoy a variety of social, cultural, entertainment, and athletic activities that contribute to a well-rounded college experience.
So, what are you waiting for? Register now and meet USA's Director of Global Outreach, Maya Pereira De Andrade, and learn more about this amazing opportunity in the United States of America!