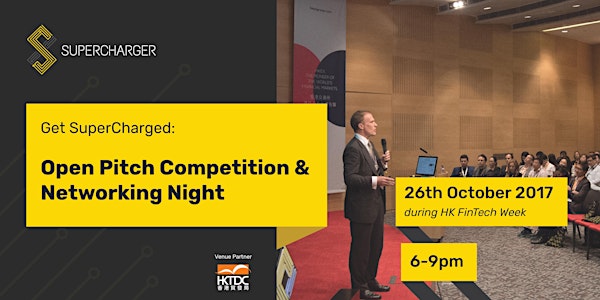 Get SuperCharged: Open Pitch Competition + FinTech Week Networking Night
Location
HKTDC SME Centre
Hong Kong Convention and Exhibition Centre
1 Expo Dr, Wan Chai
Hong Kong Island
Hong Kong
Description
SuperCharger invites you to a night of pitches and drinks with our alumni startups, partners and friends, following the Hong Kong FinTech Week conference.
The event will kick off with the announcement of the applications launch for SuperCharger's third accelerator program, followed by a few words from the founders of successful FinTech companies, who will share their experiences and offer tips on how to grow your business in Asia.
The night will continue with an 'Open Pitch Competition', a fantastic opportunity for any startups in the Fintech space to showcase their products and get themselves noticed in front of a relevant audience.
If you are a startup building a solution for FinTech, RegTech, InsurTech or Cybersecurity and have a ready elevator pitch you'd like to share -- all you need to do is sign up at hello@fintechsupercharger.com and show up with your pitch deck on the day! We will pick the first 12 companies to go on stage.
Come join us if you want to be superconnected with the extensive FinTech network in Hong Kong!
*** To get to HKTDC SME Centre, see the map here.

AGENDA

[5:30 – 6:00 pm] Registration and pre-networking
[6:00 pm – 6:30 pm] Welcome Remarks by SuperCharger, Standard Chartered and HKTDC
[6:30 pm – 7:00 pm] Meet the Alumni
[7:00 pm – 8:00 pm] Open Pitch Competition: the stage will invite FinTech startups to pitch in front of a selected panel of judges. Each startup will have 3 minutes to pitch, followed by a 2-minute Q&A.
[8:00 pm – 8:30 pm] Awarding pitch winners
[8:30 pm – 9:00 pm] Networking