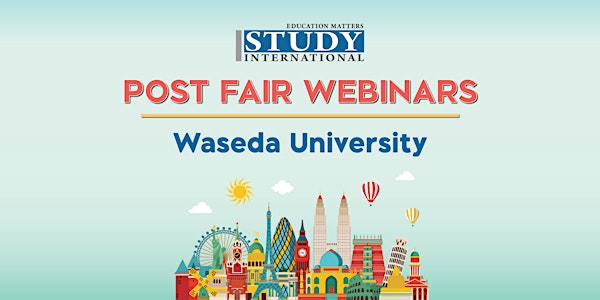 Get a Higher Education at Waseda University!
Study in Japan's best private university! Full scholarships available!
About this event
Waseda University has produced 7 prime ministers and countless other leaders in business (CEO of Uniqlo, Samsung, Nintendo, Sony etc.), literature (Haruhi Murakami), journalism, science and arts. Being ranked 26th in the world and 5th in Asia for graduate employability, Waseda's graduates definitely have an edge in their respective fields. With 50 all-English taught degree programs, students can learn Japanese in parallel to their major studies, while enjoying the many benefits of living in Tokyo, one of the greatest global cities, voted the world's safest, cleanest, most hospitable city, with the world's best public transport and the most Michelin-starred restaurants.
Learn more about how you can study at the Waseda University, join the Free Webinar on 6 October (Saturday), 6:00 PM. Just download the ZOOM app on your smartphone, tablet or computer and join our webinar from the comforts of your home. Don't put your future on hold, start today!