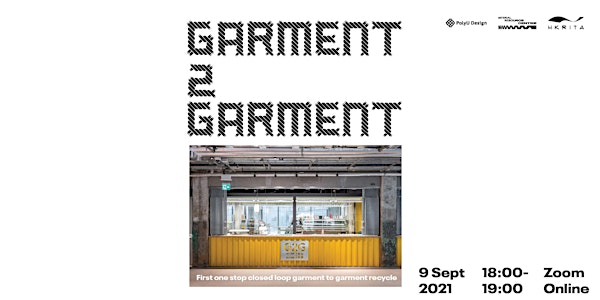 Garment 2 (To) Garment - Sustainable Material Project Talk ( Cantonese )
Material Talk Series: Garment 2 (To) Garment - Sustainable material project online talk ( Cantonese )
About this event
Material Talk Series: Garment 2 (To) Garment - Sustainable material project online talk
This Garment-to-Garment Recycle System is a mini-scale garment-to-garment production line that recycles post-consumer garments so that they become clean and useful. The system is viable as a pop-up retail concept and presents an exciting new approach to inspiring a positive approach to garment recycling among consumers and industry players alike.
CONTENT | 內容
• What is the flow of G2G?
• How to make yarns?
• What were the challenges in setting up G2G?
• What are sustainable materials in the garment industry?
• How do wastes become new materials?
• A green project case study
DATE | 日期
9 Sept 2021 (THU )
TIME | 時間
18:00-19:00 (HKT)
LOCATION | 場地
ONLINE VIA ZOOM
The Zoom details will send out by email two days in advance.
LANGUAGE | 語言
Cantonese | 廣東話
PRESENTED & ORGANISED | 主辦
Material Resource Centre, HKRITA 
SPEAKER|講者
Gloria Yao | Director of Project Development of HKRITA

She is experienced Director Of Project Development with a demonstrated history of working in the research industry and now is leading a research team and doing applied research on high-performance textiles, water-less textile technologies and post-consumer textile recycle. And also, she has considerable research experience of textile and clothing and insight into applied research, R&D roadmap and innovation strategy.
 #hkpolyumrc #sdmrc #polyudesign #material #sustainable #hkrita #garmenttogarment #g2g #textile #fabric