Galen Centre Distinguished Speakers Series - Prof. Dr. Teo Soo-Hwang
Description
Cancer is one of the top 3 leading causes of death in Malaysia. Each one of us knows at least one friend or family member who has been afflicted, living with or succumbed to this disease. It is estimated that 1 in 4 will develop cancer in their lifetime.
In Malaysia, cancer affects women disproportionately compared to men with a higher incidence (55 percent versus 45 percent). Out of the 100,000 cases estimated to be detected annually, most are among women. Cancers of the breast, cervix, ovaries and colon are among the most common. The burden of cancer, whether or not they are patients, is also disproportionate and is shouldered heavily by women.
Are women in Malaysia able to have access to life-saving treatment and quality cancer care? What are the barriers and challenges faced in making this a reality for those in need? What is the impact on families, communities and society?
We ask one of Malaysia's most respected figures in the fight against cancer these questions and more.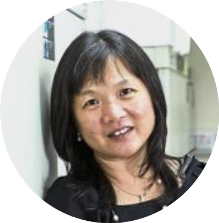 Prof Dr. Teo Soo-Hwang

Prof. Dr. Teo graduated with a First Class Honours in Biochemistry at the University of Cambridge and completed her PhD also at the University of Cambridge. She won the prestigious Royal Society Dorothy Hodgkin research fellowship for her work on understanding DNA repair and returned to Malaysia in 2001 to establish Cancer Research Malaysia. Cancer Research Malaysia develops new methods to screen, prevent and treat cancers, focusing on Asians.
Prof Teo has established the largest study of breast cancer in Asia and has won prestigious grants from the Wellcome Trust and the Newton Fund to develop new methods to provide women with accurate information about their risk, and to develop new methods to work out which patients will benefit from new treatments such as immunotherapy. Prof Teo has also raised funds to establish Malaysia's first Patient Navigation Programme, which seeks to help poor women improve their access to life saving cancer treatments.
Professor Teo was appointed an Adjunct Professor at University Malaya in 2008, an Eisenhower Fellow in 2010, won the Top Research Scientist of Malaysia award in 2014, was appointed a Fellow of Academy of Sciences in 2014 and has recently been awarded the OBE by Her Majesty Queen Elizabeth II for her contribution to medical research.