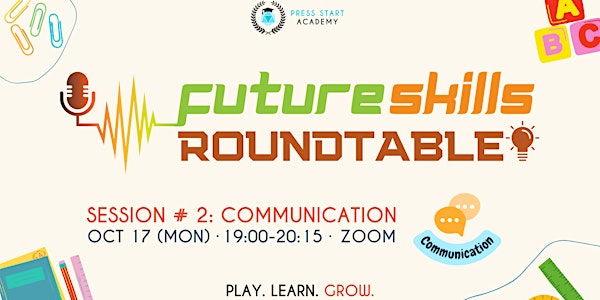 Future Skills Roundtable #2: Communication
A virtual fireside chat on Communication in Press Start Academy's Future Skills Roundtables series focusing on 21st-century skills!
About this event
Please reserve your spot: https://bit.ly/PSAFSR2
The Ontario Public Service lays out an ambitious, visionary foundation document for the Canadian province's education system to develop 21st-century skills in its students.
Within this universally applicable roadmap, Communication comprises oral and written expression; asking effective questions; listening and understanding; and voicing opinions and advocating for ideas.
(Source: Ontario Public Service)
For the second session in our Future Skills Roundtables series, we are delighted to invite two exciting guests who have built incredible and inspiring careers through honing their Communication skills:
Lee Williamson, Business Director, Gen.T and Tatler Asia Group
Pristine Lampard, Founder, Dalisay Collection
In this discussion, our Founder and CEO Vince Siu will be diving into Lee and Pristine's colorful, varied career experiences across different countries and explore how their passion for storytelling has helped them chart a path through the interior design, nonprofit and media and journalism worlds!
Please reserve your spot: https://bit.ly/PSAFSR2
About the Future Skills Roundtables
The Future Skills Roundtables is an online discussion series curated and hosted by Press Start Academy, aiming to gather passionate entrepreneurs and talented young leaders to exchange insights on 21st-century skills and how they've used them throughout their careers.
Each Roundtable is themed around one of the 6Cs of 21st-century skills - Creativity, Communication, Critical Thinking, Collaboration, Citizenship and Character - and features three guests who have built their successes around exemplifying these skills.
Through these conversations, we will be unpacking the importance of skill-based learning and a well-rounded whole-person education. We hope students, parents and educators alike will join us for a series of interesting, inspiring and important roundtables!
About Press Start Academy
Press Start Academy is an education startup reimagining whole-person development through play and games.
We are designing the future of 21st-century skill development and delivering it through fun-first, hands-on, multidisciplinary learning experiences set in a fictional Shared Universe.
Our curriculum is built on a research-backed, proprietary skills development and assessment framework, while our academic focuses are currently in English (creative writing and storytelling) and science (physics, chemistry and biology), with alignment to internationally recognized curriculum standards.
Launched in 2019 as an expansion of games consultancy Press Start Hong Kong, Press Start Academy has to date developed over 20 innovative programs, successfully pioneered an online and blended learning model, and has recently launched regular semester enrichment programs in collaboration with schools within Asia.
Learn more: https://www.pressstartacademy.com
#playlearngrow