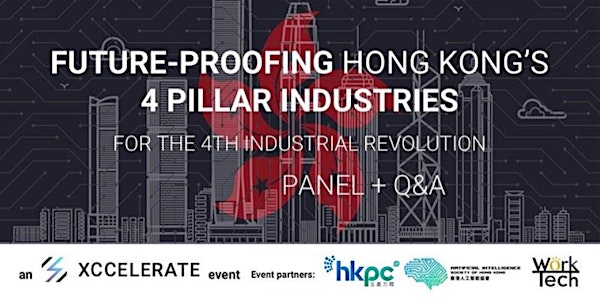 Future-Proofing Hong Kong's 4 Pillar Industries (Live-Stream)
The 4 pillars of industry in Hong Kong are tourism, professional services, finance and trading logistics. Are these future proof?
About this event
Note: This event will now be held via online livestream! RSVP and you will be sent the link on the day of the event.
Here in Hong Kong we are at an interesting turning point where the beginnings of the 4th industrial revolution where tech disruption takes centre stage. Despite this, over the last 8 months we've been met with turmoil and instability that hint towards the possibility of a recession.
As it stands, the 4 "pillars of industry" in Hong Kong are: tourism, professional services, finance and trading logistics.
These have served us in decades past, but moving forward-- are these industries future proof?
As a top tier global city, are we keeping up with advancements in A.I technologies and skilled labour to remain competitive in these realms?
During this expert panel, we will dig into these 4 pillars of industry and discuss what it will take for Hong Kong to remain stable throughout the next decade as we quickly move into the 4th industrial revolution, where the physical world becomes increasingly more fused with the digital universe through A.I adoption.
Topics we will cover:
Are the 4 pillars future proof with A.I technologies?
What are the disruptive technologies shaping the legal sector?
Industrie 4.0 - Role of A.I thats shaping the Supply Chain
Technologies that boosted the Reindustrialisation of HK in Mask Production
How A.I. technologies are connecting Buyers and Suppliers
What other leading countries are doing to stay ahead
Jobs that will inevitably become redundant
How individuals can adapt their careers
How enterprises can upskill their workforce
What is the "call for action" for CEO's and CHROs?
Who should attend:
Anyone personally or professionally invested in the realm of the 4 pillars
Those looking to future proof their careers
Managers and execs that what a high-level overview of emerging technologies that are transforming the way we do business
This event will kick off a multi-event series, with each workshop going deeper into the individual pillars. More details will be announced during this event.
Speakers:
Minesh Pore
CEO, The BuyHive
Minesh is a highly regarded global trade expert with over 20 years' experience leading multinational organizations in Intraprenuership, corporate transformation, business development, and strategic planning. He is recognized as a leader in international business, who has risen through the ranks of multiple prestigious companies worldwide, including various executive management positions at listed companies including Intertek, Pico, and Tata Infomedia. During his career he has lived and worked in New York, London, Shanghai, Taipei, Mumbai, and Hong Kong. He has worked with multiple Trade Show Organisers across 6 continents. Former Director of International Business at Global Sources and Head of Startup Launchpad.
Kam-Wing Pang
Compliance Director and Legal Council
Kam is a legal counsel and compliance director for a Hong Kong listed company, advising on corporate and commercial law. He has written articles for the Hong Kong Lawyer magazine on topics as diverse as artificial intelligence to Okinawan Karate. Prior to becoming a lawyer, he was a software engineer and project manager for over 15 years, working in the UK and Asia for the public utilities, financial institutions, telecommunications and international remittance industry.
He is a member of the Innotech Committee, the Chairman of the Working Party on Practice in Service Centres, at Home, in Domestic Premises or by Virtual Offices and the Convenor for the Martial Arts Interest Group of the Law Society of Hong Kong.
He holds a Bachelor's degree in Computer Systems Engineering, Master's degree in Electronics Engineering, LLB, and is legally qualified in Hong Kong.
Sehr Ahmed
CHRO Asia, Mercer
Sehr brings a global perspective, cultural savvy and multi-industry experience in leading change and transformation for global businesses. She has held HR leadership roles across Asia Pacific for ABN AMRO Bank, AIG, McDonalds and globally for IFM Investors. What sets her apart is her distinct commercial focus having started her career as a Corporate Banker and later transitioned into Human Resources.
Sehr has an MBA in Corporate Finance from the Edinburgh Business School where she was a Commonwealth Scholar. Prior to that, she graduated as a Wien Scholar from Brandeis University with a BA in Economics. She is also a graduate of the AICD's International Company Director Course and a certified Executive Coach from the Institute of Executive Coaching in Australia.
A self-confessed global nomad, having lived in 10 countries and 12 cities, she now resides in Hong Kong.
Horace Leung
Lead Consultant, Industry 4.0 & Enterprise 4.0, Hong Kong Productivity Council
Horace is Fraunhofer IPT Certified Industrie 4.0 Trainer and Expert, an IRCA-certified (Internationally Recognized) and CCAA-certified (Legally Recognized in PRC) Lead Auditor in Quality Management System, ASQ-certified Six Sigma Black Belt (Internationally Recognized), and CNAS-accredited Lead Auditor in ISO/IEC17025 Laboratory Management System. Horace had successfully delivered training on project implementation with focus on LEAN operation and service quality enhancement to various internationally recognized organizations including Public Health Services & Public utilities in HK, various recognised manufacturing enterprises in China and Hong Kong, Adjunct Lecturer of local institutions, etc. Recently, He has engaged in provision of technical supporting in Mask Production in Hong Kong.