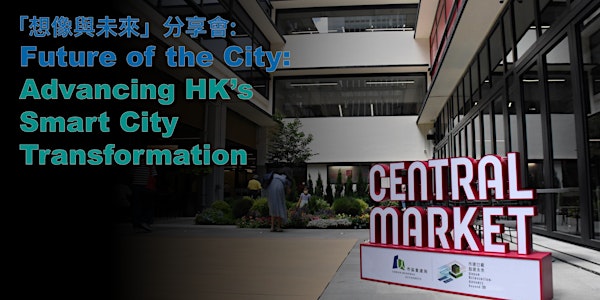 Future of the City: Advancing HK's Smart City Transformation
「想像與未來: 推動香港智慧城市轉型」分享會將以英文進行 This Fireside Chat will be conducted in English
By LPCUWC & UWC Hong Kong Committee
Date and time
Wednesday, February 8 · 6 - 8pm HKT
Location
Central Market 80 Des Voeux Road Central, HKI Hong Kong
About this event
This Fireside Chat will be conducted in English
Why is Smart City important? Achieving a Smarter City has always been on the Government's and City's agenda (Reference HK's Smart City Blueprint 2.0), because digitalization not only should improve the citizen's living convenience and enjoyment, but it also generates important big data that enables better decision making to help achieve more sustainable living.
But implementing Smart City concepts and initiatives is not easy, especially in a city like Hong Kong with all kinds and all forms of existing infrastructure managed by different governmental and private corporations. What are the few initiatives that can rally various stakeholders to support together? What is the data infrastructure standard to support the Smart City initiatives? How can data be collected, shared and analysed that will benefit every participating stakeholder? And with that, what bigger vision can be achieved for everyone in this society? These are important questions, and possibly hurdles, that have continued to be present on HK's journey towards a Smarter City.
------------------------------------------------------------------------------
We might not have readily available answers for these questions, but many active stakeholders have continued to do work to push this agenda forward. Celebrating the 50th anniversary of when the UWC movement has begun in Hong Kong, Li Po Chun United World College of Hong Kong is organizing a set of industry fireside chats at the Central Market for interested industry stakeholder and the public to come learn more about interesting discussions hosted by our alumni and joined by friends of the school.
On Feb 7th Tuesday from 6-7pm at Central Market, we will be hosting a fireside chat on "Future of the City: Advancing HK's Smart City Transformation", led by Ms. Iris Tam (Pearsons '77), a veteran urban planner who was an ex-MD of Urban Renewal Authority, to share her experiences and challenges in serving at the forefront of Hong Kong's urban development.
Joining her will be Mr. Michael Chan, who is the Managing Director of MTR Labs and the Corporate Strategy General Manager at MTR Corporations Limited, on what his goals and vision in driving the smart city agenda on the corporation's properties and new investments outside of the highly efficient railway operation.
Also joining is Ms. Christina Tang (LPCUWC '05) from Blue Sky Energy Technology to share about her experience in reinvigorating buildings into high performance and sustainable infrastructures with integrated solution involving smart sensor hardware, data-driven analytics software and user engagement.
The trio will discuss about this topic from 6-645pm, followed by an open Q&A session till 7pm. Attendees are welcomed to grab drinks from ION (cafe & bar next door) and mingle at our site until 8pm.site until 8pm.
About the organizer
The UWC Scholarship Scheme is inviting applications to study at one of 18 UWCs around the world, including Li Po Chun United World College (LPCUWC) in Hong Kong.
UWC makes education a force to unite people, nations and cultures for peace and a sustainable future. Students are selected purely on merit and personal qualities, regardless of their ability to pay.
To qualify as a Hong Kong applicant through UWC HK Committee, you will need to be:
a) Holding a Hong Kong Permanent ID Card or dependent visa; and
b) Studying in Secondary 4 / Secondary 5 (or its equivalent) as at September 2019.
More on UWCs around the world: http://hk.uwc.org/. (Facebook: https//www.facebook.com/UWCScholarshipsHK/).
More on Li Po Chun United World College of Hong Kong: http://www.lpcuwc.edu.hk/. (Facebook: https://www.facebook.com/lpcuwc/)