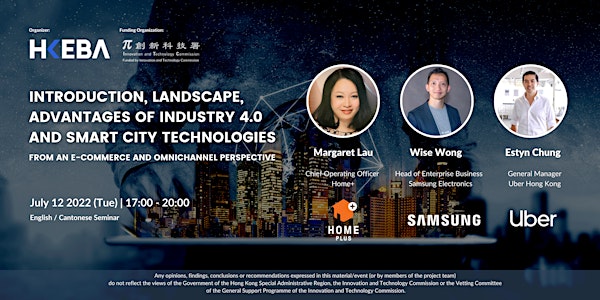 Future of Smart City - Industry 4.0 Revolution on Omnichannel & Logistic
Introduction, Landscape and Advantages of Industry 4.0 and Smart City technologies from an E-Commerce and Omnichannel perspective
When and where
Location
the Hive Sheung Wan 33-35 禧利街 Hong Kong, HKI Hong Kong
About this event
Description:
In the pursuit of Smart City technologies, information and technology is used to improve operational efficiency, increase information sharing transparency and increase the quality of living for citizens.
In this seminar, you will receive expert advice from Uber, Samsung and Home+ on how Industry 4.0 and Smart City technologies (e.g., iOT and smart transportation) impact the e-commerce and logistics industry to make a city a better place.
智慧城市講求運用資訊及科技來改善城市的運作效率,並勴過增加共享資訊的透明度來提高市民的生活質量。
在這次研討會中,我們邀請了Uber、Samsung及Home+來分享工業4.0以及智慧城市技術(例如物聯網和智能交通)如何影響電子商務和物流行業,令城市變得更美好。
Event Details
Date: 12 July 2022 (Tuesday)
Format: Seminar
Time: 17:00 - 20:00
Language: English / Cantonese
Fee: $50 HKD
*COUPON CODE FOR FREE ADMISSION: HKEBA2022*
HKEBA's members could enjoy the exclusive benefits by entering the coupon code at the registration page. (For more details, please contact Mr Tim Ng at tim.ng@hkeba.org / 69711791.)
Rundown:
17:00 - 17:30 | Registration
17:30 - 17:45 | Introduction
17:45 - 18:05 | Uber Speaker Sharing
18:05 - 18:35 | Panel + Q&A Session
18:35 - 18:55 | Samsung Speaker Sharing
18:55 - 19:15 | Home+ Speaker Sharing
19:15 - 20:00 l Networking
Speakers:
・Chung, Chi Ting Estyn, General Manager, Uber
・Wise Wong, Head of Enterprise Business, Samsung
・Margaret Lau, Chief Operating Officer, Home+

Acknowledgment of Support and Disclaimer:
Any opinions, findings, conclusions or recommendations expressed in this material/event (or by members of the project team) do not reflect the views of the Government of the Hong Kong Special Administrative Region, the Innovation and Technology Commission or the Vetting Committee of the General Support Programme of the Innovation and Technology Commission.
此物品/活動由香港特別行政區政府的一般支援計劃資助:
在此刊物/本項目的任何 活動中提出的任何意見、研究成果、結論或建議,並不代表香港特別行政區政府及一般支援計劃評審委員會的觀點。
*Participants who join the seminar will receive email newsletter of HKEBA
*是次講座的參加者將收到本會經電郵發出的會訊。
贊助機構:
Solution Forest Limited
Hong Kong Wireless Technology Industry Association Limited (HKWTIA)
Hong Kong Internet & eCommerce Association Limited (HKIECA)
Communications Association of Hong Kong (CAHK)
Hong Kong Association of Interactive Marketing (HKAIM)
Hong Kong Software Industry Association
SME Global Alliance Limited (SMEGA)
Hong Kong PropTech Association (HKPTA)
Tencent WeStart Hong Kong
Brinc Limited
Zerozone Solutions Limited
Asia PropTech
The Hong Kong Polytechnic University
The Association of Cloud and
Mobile Computing Professionals (ACMCP)
Hong Kong Science and Technology Parks Corporation
Hong Kong Federation of ECommerce
E-Commerce Association of Hong Kong
Lingnan University (Lingnan Entrepreneurship Initiative)
Hong Kong Retail Management Association Limited
EntreLink Limited
Hong Kong Blockchain Indusry Association
The University of Hong Kong
CoCoon
Hong Kong Retail Technology Association
City University of Hong Kong
Invest Hong Kong