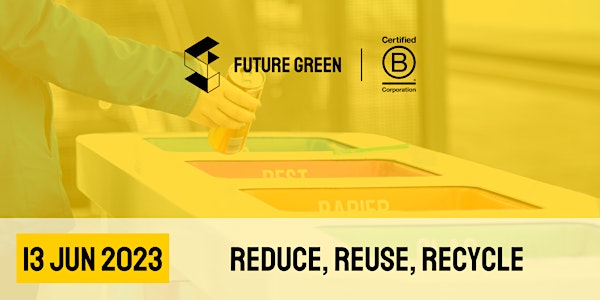 Future Green Members Sustainability Meet-up - 13 Jun 2023
Future Green Sustainability Meet-up - 13 Jun 2023
Date and time
Tue, 13 Jun 2023 15:30 - 17:30 HKT
Location
KIN Food Halls 2/F Devon House, Taikoo Place 979 King's Rd, Quarry Bay Quarry Bay, HKI Hong Kong
Agenda
8:30 AM - 10:30 AM
Future Green Sustainability Meet-up - 13 Jun 2023
About this event
Want to learn about the latest on plastic regulations?
Come and learn from our expert speakers and network with food enthusiasts, industry professionals, and sustainability advocates! Join us at our next Future Green Members Meetup!
Each month, we dive into a different focus area of our food sustainability framework, providing subject matter expertise and inspiration to adopt and implement more environmentally friendly practices across the food community from sourcing and procurement to society and environment issues. On top of this, you will also be treated to drinks and nibbles from our generous host! This month, we are talking about Reduce, Reuse, Recycle.
According to the EPD, Hong Kong generates a staggering 5.2 million tonnes of municipal solid waste every year, with only 29% being recycled. The remainder ends up in landfills, which are expected to reach capacity by 2035. To tackle this crisis, we must adopt a proactive approach to waste reduction and promote sustainable practices.
We will hear a case study, Hong Kong regulation update as well as innovative ideas for prevention of waste to landfill, including upcycling and zero-waste operations, and the importance of businesses adopting circular economy models. Together, we can work towards a greener, cleaner Hong Kong by promoting the 3R's: reduce, reuse, and recycle.
Make sure to get your tickets now as we have a limited space.
FOCUS AREA Reduce, Reuse, Recycle
DATE Tuesday 13 June 2023
TIME 3.30-5.30PM
VENUE KIN Food Halls
OUR GUEST SPEAKERS:
Speaker 1: Dana Winograd from Plastic Free Seas
Speaker 2: Matt Reid from KIN Food Halls
Member Spotlights: Blake Ireland from Life Solutions & Audrey Onolfo from Chateau Galoupet
TICKETS:
Food Service Provider and Supplier Members: 1 complimentary ticket
Corporate Members: 3 complimentary tickets
Not a Future Green member yet? No problem! Non-members can enjoy a one-time tryout access for just 250 HKD, giving you a taste of our vibrant community, membership benefits, and see how we can help you in your sustainability journey.
Don't miss this opportunity to explore the future of food and make a difference, one bite at a time!
A big thank you to our sponsor Fresh Accounting and kind hosts at the KIN Food Halls for making this event possible.
Terms and Conditions:
This event is open to all working in food (beyond F&B), Corporates, Schools, Food Brands etc.
Non-members are allowed to participate in a single tryout session only
Reservations in advance are highly recommended due to limited space. Please consider your booking confirmed via Eventbrite unless notified otherwise.
Please avoid cancellations to avoid food and drink wastage.
The event will be canceled if the No.8 Typhoon signal or the Black Rainstorm warning is in force.
By attending this event, you agree to be photographed, recorded, and/or filmed and give permission to use your likeness in promotional and/or marketing materials.
By attending this event, you agree to be photographed, recorded, and/or filmed and give permission to use your likeness in promotional and/or marketing materials.
For further information please email hello@futuregreen.global
About the organiser
We will run a free 1 hour webinar to share with you what a Food Sustainability Strategy Sprint can do for your food business.
TURN IDEAS INTO ACTIONS - WHAT'S YOUR PURPOSE?
The Food Sustainability Strategy Sprint is a structured process for teams to design an action-oriented strategy that moves your company to an advantageous position. You will align on purpose and critical challenges then generate coordinated actions to address them.
WHO SHOULD BE IN THE ROOM
Procurement Teams-Chefs /Sous Chefs-PR/ Marketing Teams-ESG/Sustainability Leads-Product Teams-CFO-GMs
FRAMEWORK AREAS: PROCUREMENT, SOCIETY, ENVIRONMENT