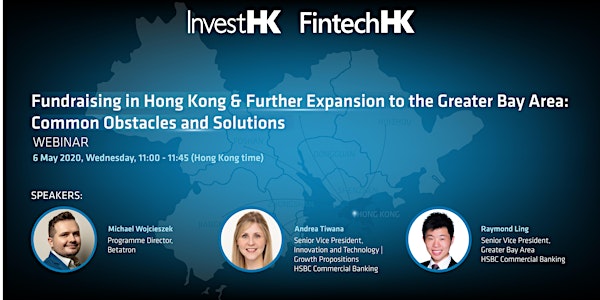 Fundraising in Hong Kong and Further Expansion to the Greater Bay Area
InvestHK - FintechHK Webinar - Fundraising in Hong Kong and Further Expansion to the Greater Bay Area: Common Obstacles and Solutions
About this event
Being an international financial hub and also part of the Guangdong-Hong Kong-Macao Greater Bay Area ("GBA"), many fintech companies see Hong Kong as their launchpad to scale up their business in Asia and enter the other GBA cities, a market with population over 70 million . Nevertheless, companies may encounter obstacles such as fundraising in Hong Kong and business development in the GBA. Join this webinar hosted by the industry leaders in innovation and technology investment in Hong Kong and the GBA to understand the common obstacles and solutions for fintech companies and those from other innovative sectors.
**************************************************
Agenda
11:00 - 11:05 Welcome and introduction to speaker
11:05 - 11:35 Panel Discussion
- Fundraising in HK: insights from investors
- Business expansion to Greater-Bay-Area: opportunities, common obstacles and solutions
11:35 - 11:45 Q&A
**************************************************
About the Speakers
Moderator: Mr. King LEUNG - Head of Fintech, InvestHK
Speaker (1): Mr. Michael WOJCIESZEK - Programme Director, Betatron
Michael is the Programme Director of Betatron, a Hong Kong based Venture Capital firm and Accelerator.
Betatron invests in promising startups in the seed to pre series A stage up to US$500k per startup. These promising startups are accelerated through an intense and highly individualised 4 month program that includes preparation for their next round of investment, and concludes with a global roadshow with Demo days in Hong Kong, Singapore and Silicon Valley. Cohort 5 had 1301 applications and cohort 6 (start date July 2020) is on track for 2000+
As Program Director of Betatron Michael is in charge of operations, builds and continuously improves the program, as well as develops partnerships and investment opportunities for Betatron alumni and Betatron itself.
Michael is also multi-lingual Cambridge university medical graduate and published scientific researcher, as well as the Co-founder of educational organisation OSCA with a 15years history in Hong Kong, Japan and Taiwan, and is passionate about helping motivated founders build disruptive and impactful startups.
Speaker (2): Ms. Andrea TIWANA - Senior Vice President, Innovation and Technology | Growth Propositions, HSBC Commercial Banking
Andrea is relocated to Hong Kong last year to join the Innovation and Technology team in the Growth Propositions division of HSBC Commercial Banking. Andrea provides strategic coverage of venture capital firms operating in the Greater Bay Area, and is focused on deployment of the GBA+ technology fund to provide senior debt financing support for fast-growing technology clients.
Prior to this role, Andrea spent 8 years in various roles across the Commercial Banking business in HSBC UK, working with corporates and private equity firms to deliver structured banking and leveraged finance solutions.
Speaker (3): Mr. Raymond LING - Senior Vice President, Greater Bay Area, HSBC Commercial Banking
Raymond is stationed in Shenzhen and is currently Senior Vice President, Greater Bay Area of HSBC. Raymond is responsible for developing relationships with key external partners to accelerate internationally minded companies and enable them to thrive in GBA.
Prior to this role, Raymond spent 7 years in various roles across the Commercial Banking business in HSBC Hong Kong, working with corporates to deliver tailor made banking solutions to solve their banking needs.