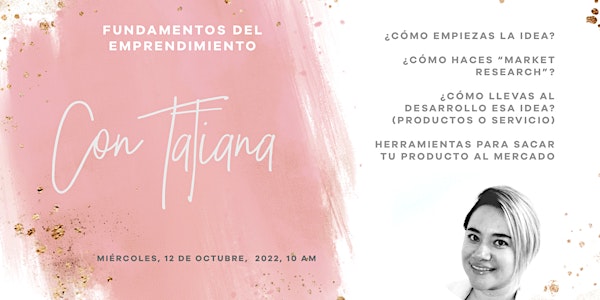 Fundamentos del Emprendimiento
Fundamentos del Emprendimiento con Tatiana
When and where
Location
Winfield Building 5 Ventris Road Causeway Bay, HKI Hong Kong
Refund Policy
Contact the organiser to request a refund.
About this event
Tatiana ha llevado a la acción y con éxito ideas de emprendimientos, en distintos países. Ella tiene una especial sensibilidad para entender las necesidades de la gente y por ende crear ideas de negocio exitosas. También posee conocimiento entorno empresarial en Hong Kong. La idea del taller es que Tatiana nos enseñe como ella lleva a la ejecución una idea y también responda preguntas acerca de cómo ejecutar o mejorar emprendimientos. Tatiana nos ayudará a definir los siguientes pasos necesarios con acciones concretas para avanzar en nuestros proyectos.
Biografía de Tatiana
Trabajé desde a los 16 años en la empresa de mobiliario de mi padre para lanzamientos de nuevas marcas en Colombia como el grupo Miller, LG, Sony entre otras.
A los 21 años terminé mi carrera como Economista e hice una especialización en negocios. A los 22 años migré a Londres para perfeccionar mi inglés e hice una maestría en banca y finanzas internacionales.
A los 25 años en Londres forme mi primera empresa, Eden organic Care basada en la venta de productos de belleza y cuidado de la piel, a mis 26 años me asocie para abrir una nueva empresa, Bonicaro que comercializaba prendas para vestir y accesorios. Las dos empresas se hicieron para 100% ventas online.
A los 30 años hago la venta de las dos anteriores empresas y comienzo una nueva empresa de certificación de ascensores, escaleras y puertas eléctricas en Bogotá la cual se expandió a Cartagena y Barranquilla.
A mis 34 años vendo la empresa anterior y comienzo con una nueva empresa de cultivo de cannabis en Colombia y comercialización en el Reino Unido, las dos siguen en funcionamiento.
A mis 36 años empiezo una nueva empresa con 2 socios para la construcción de estaciones de gasolina en Colombia.
Después de mis 30 también invierto en pequeñas start ups de joyería y desarrollo de producto.