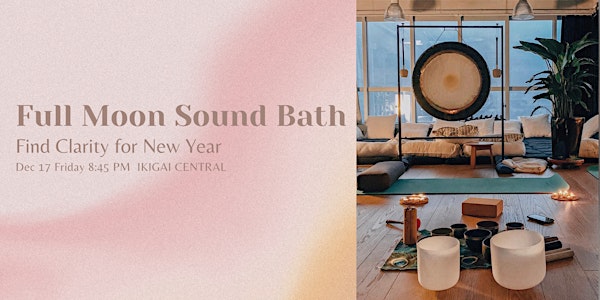 Full Moon Sound Bath
Last Full Moon of 2021 -Find Clarity for New Year
When and where
Location
IKIGAI Yoga & Wellness Central 11-15 On Lan Street 7th Floor Central, HKI Hong Kong
Refund Policy
Contact the organizer to request a refund.
About this event
There are 5 phases for this Full Moon Sound Journey:
Grounding. tuning in with the sound of (((OM))) vocal toning to reach states of harmony and resonance collectively. And observe open awareness for deep and mindful listening build toward a heightened state of awareness.
Setting intention. write clear intentions. Let go of attachments, emotions, thoughts, or anything that weighs heavy and doesn't serve your greater purpose. Welcome self-love, compassion, equanimity.. anything that works for a better version of yourself. Receive clarity for relationships, work, or life goals, any aspects in the world that you would like to ask for clarity.
Body. simple movements to loosen up your body, let go of any tension and let your body soften and receptive.
Breathe. into a deeper state of meditation. Pranayama (Yogic breathing) helps you to purify your mind, and nadis (channels in your body).
Sound. be open and receive an intuitive sequence of overtone-emitting instruments, including crystal singing bowls, tuning forks, chimes, and more.
What to prepare
Prepare your vessel - to increase your sensitivity and openness. It is recommended that you refrain from alcohol intake and other substances for about 48-72 hours before the journey. Please, arrive on an empty stomach.
What to bring
Comfortable clothing (layers recommended)
Eye mask or a scarf
A journal and a pen
Jewelries and crystals to charge
*mats and blankets are provided in the studio
miracle sound was created by Minnie Cheung, a Yoga teacher turned Sound Artist.
After years of teaching yoga, Minnie discovered a way to help her students deepen their practice through sound and music. She encourages people to bring awareness to sound and practice deep listening during her sessions. Musical studies have been a significant part of Minnie's life since she was a child. She believes sound and music are deeply powerful tools to facilitate presence, mindfulness, and ultimately spiritual transformation. She is in awe of how powerful sound healing is in helping people attain a balanced, peaceful, and meditative state.
Minnie is also a devout meditator and is always looking for ways to bring the element of meditation to her offerings. By bringing all her passions together, Minnie takes students on a journey of healing, self-discovery, and transcendence in her classes.
https://www.instagram.com/m_iracle_vie/
Welcome to Payme or FPS:
https://payme.hsbc/miraclevie