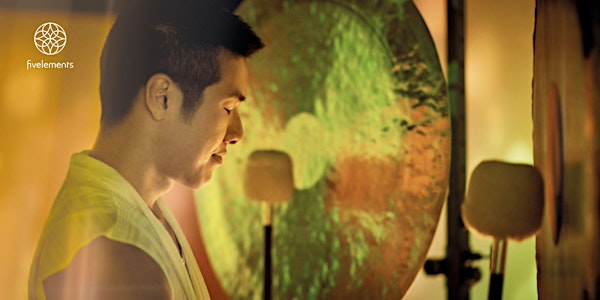 Full Moon Sacred Sound Journey with Malbert Lee / 18th Sept 2021, Sat
Full Moon Sacred Sound Journey with Malbert Lee - 18th September, 2021 Saturday
When and where
Location
Fivelements Habitats Level 13A, Tower 1, Times square 1 Matheson Street Hong Kong Kong, HKI Hong Kong
About this event
Full Moon Sacred Sound Journey with Malbert Lee
Please join us as Fivelements' sacred artist Malbert Lee will take you on a transformative sound bath with custom-made gongs and singing bowls. It is a mind-body nurturing experience that soothes your mind, relaxes your body, reduces stress, clears energetic blockage while being in a blissful altered state of consciousness so that you can feel good inside out. The experience begins with a brief talk about the benefits of sound vibrations and how to use them as a meditative tool. Followed by some gentle movements that will improve the energy flow within and prepare your mind-body for the sound immersion. Multiple gongs, singing bowls and other overtone-emitting instruments will be used to create a tranquil soundscape that gives you a sense of clarity and harmony. This event is open to Members and Non-members of Fivelements Habitat.
A certified teacher of Hatha, Vinyasa, Yin and Restorative Yoga, Malbert first became a yoga teacher in 2016 and in the same year discovered the healing power of sound. The crystal singing bowl was his first sacred instrument, improving his health both physically and emotionally. He slowly built up his sacred instrument collection of a variety of gongs and singing bowls. Malbert has since undertaken hundreds of hours of yoga teacher, singing bowl and gong master training with international masters. From offering general classes, workshops for teenage students and cancer patients, to wellness festivals in Hong Kong Malbert shares his passion for yoga and sound healing to help people from all walks of life. You can find his crystal sound music album on Apple Music and Spotify.
..
Pricing:
HKD $450p.p.
Cardholder savings 10% applied.
Price includes HK$50 Sakti Plant-based dining voucher, valid for one month.
Other Payment Options
Direct payment to Fivelements Habitat through Bank Transfer or Payme available upon request. Add-on set lunch meal requires 3-day advance booking. Please contact Fivelements Wellness Concierge for more details:
Fivelements Habitat
Level 13A, Tower One, Times Square, 1 Matheson Street, Causeway Bay, Hong Kong.
Website: fivelements.com
Instagram: @fivelementshabitats
Enquiries: Wellness Concierge +852 3106 2112 / wellnessts@fivelements.com
About Fivelements Habitats
Expanding from our award-winning wellness retreat in Bali, Fivelements Habitats have been designed as a home for the growing 'urban wellness tribe', designed to be the 2nd most important space for city dwellers, between their 1st, their homes and their 3rd, their workplaces. Our first Habitat in Times Square opened its doors in July 2019 as part of the vision to bring wellness closer to the people who need it most – urban residents and corporates leading highly demanding lifestyles who are seeking greater balance, stress reduction and authentic personalized wellness experiences.