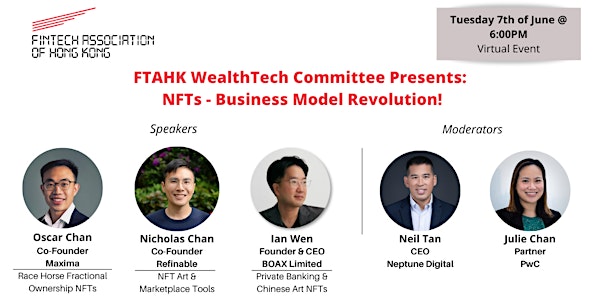 FTAHK WealthTech Committee Presents: NFTs - Business Model Revolution!
FTAHK WealthTech Committee Presents: NFTs - Business Model Revolution!
About this event
OVERVIEW
The NFT Boom has created many unique platforms with different business models. The WealthTech Committee brings together three of the most unique NFT Marketplaces based in Hong Kong to discuss their journey, product, propositions, and future growth ambitions, which maybe leveraged by the banking, finance, insurance, and other financial services.
BOAX – NFT platform for artists, collectors, and high net-worth investors. We aim to democratise the arts and antiques market by building a new ecosystem with industry stakeholders across Asia and beyond. Collaborating with famous Master Artists, celebrities, creative talents, and internationally renowned Fengshui masters, BOAX provides unique digital assets and user experience. We are a premium NFT marketplace that offers rare digital collectibles.
REFINABLE – started as a decentralized foundation for creators, traders, and collectors to transact with digital assets, but we believe the future is to own your brand and liquidity. By offering decentralized Web3 creator and marketplace tools, we now aim to empower the next generation of Web3 businesses with the tools they need to succeed.
MAXIMA HORSE -- The world's first and largest digital marketplace for Racehorse non-fungible tokens (NFTs) by ERC-721 & ERC-1155. All racehorses are backed by their physical counterparts.
SPEAKERS
Ian Wen - Founder & CEO, BOAX Limited
Nicholas Chan - Co-Founder, Refinable
Oscar Chan - Partner, Maxima
MODERATORS
Neil Tan - CEO, Neptune Digital
Julie Chan - Partner, PwC