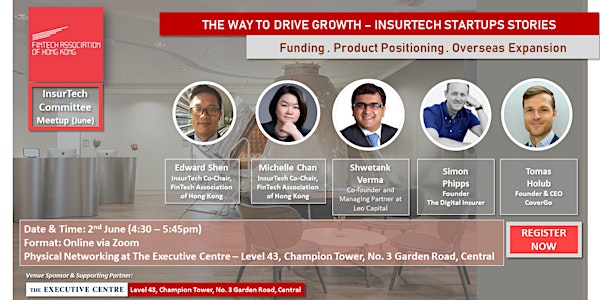 FTAHK InsurTech Committee Presents: The Way to Drive Growth
FTAHK InsurTech Committee Presents: The Way to Drive Growth - InsurTech Startup Stories
About this event
OVERVIEW
An in-depth panel discussion on the journey of establishing successful InsurTech startups. Topics of discussion include funding, product positioning and overseas expansion.
SPEAKERS
Shwetank Verma - Co-Founder & Managing Partner, Leo Capital
Simon Phipps - Founder, The Digital Insurer
Tomas Holub - Founder & CEO, CoverGo
MODERATOR
Edward Shen - FTAHK InsurTech Committee Co-Chair
Michelle Chan - FTAHK InsurTech Committee Co-Chair
*Please note the event is held in a hybrid format so physical tickets are provided on a first-come-first-serve basis. The venue location is at The Executive Centre, Level 43, Champion Tower, No. 3 Garden Road, Central.