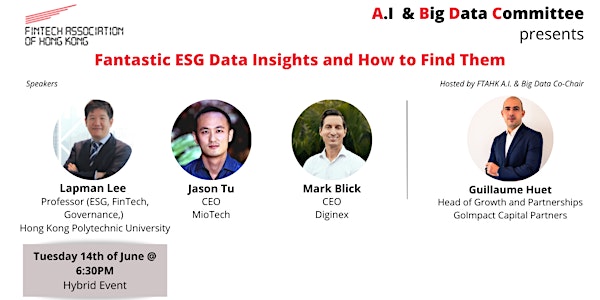 FTAHK A.I. & Big Data Committee Presents: ESG Data Insights Panel
FTAHK A.I. and Big Data Committee Presents: Fantastic ESG Data Insights and How to Find Them
About this event
OVERVIEW
Data is the new oil. In spite of the move away from fossil fuel to mitigate climate change, this analogy remains valid for ESG Data.
To talk about it we have gathered 2 CEOs and a GreenTech specialist from the academic world to discuss what tools CSO (Chief Sustainability Officers) and CDOs (Chief Data Officers) can leverage to overcome the challenges of ESG reporting but also generate insights for their organisation. We will also discuss the change management effort this journey requires to educate executives and staff and ensure the best use is made of this data in organisations.
SPEAKERS
Lapman Lee - ESG Professor of practice at PolyU and Board member at the Fintech Association of Hong Kong
Jason Tu - CEO of MioTech
Mark Blick - CEO of Diginex
MODERATOR
Guillaume Huet - Head of Growth and Partnerships at GoImpact Capital Partners
*Please note the event is held in a hybrid format and physical tickets will be granted in a first-come-first-serve basis. The venue location is at the French Chamber of Commerce (Central, On Hing Terrace, 1號, On Hing Building, 21樓).