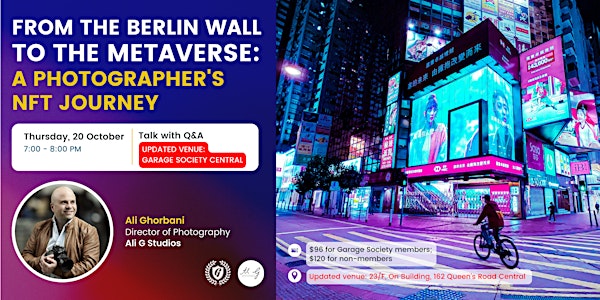 From the Berlin Wall to the Metaverse: A Photographer's NFT Journey
Garage Academy is teaming up with Ali G, professional photographer and NFT creator, for a talk at the forefront of #TheBusinessofCreativity
When and where
Location
Garage Society Central 23/F, On Building 162 Queen's Road Central Central, HKI Hong Kong
Refund Policy
Refunds up to 7 days before event
About this event
IMPORTANT: VENUE CHANGE
Please note that the event venue has been changed to Garage Society Central, 23/F, On Building, 162 Queen's Road Central. (The original venue was Garage Academy Campus, 4/F, Beverly House, Wanchai)
For current ticket-holders, we will be reaching out via email shortly, with details about further arrangements.
There has been an unprecedented evolution of art in the digital space, highlighted by Collins English Dictionary naming NFT as the 2021 Word of the Year.
In this talk, professional photographer, NFT creator and Educator Ali Ghorbani will take you on a visual journey from the fall of The Berlin Wall in 1989, all the way to selling out his first photography collection 'Hong Kong Red' as NFTs on the blockchain.
Get an inside look at his 32-year photography journey, including an unexpected start as an engineering student, pivoting his business away from wedding photography during the pandemic, and reinventing his brand to propel it into success in the Metaverse.
💬 What to expect:
How Ali got his start as a photographer
His 32-year career journey, and first foray into NFTs
How to create, market and sell your NFTs
Hong Kong Red, Colors of India, and future NFT collections
Connect with other NFTs creators, collectors, and creative professionals in Hong Kong
✨ This talk is perfect for:
Creative professionals, Artists, and Photographers who are interested in creating NFTs
Anybody who's interested in learning more about NFTs, Web3 and the Metaverse
📅 Date: Thursday, 20 October 2022
⏰ Time: 7 - 8 pm (doors open 6:45 pm for registration)
📍Venue: Garage Society Central: 23/F, On Building, 162 Queen's Road Central (Google Maps)
🎫 Tickets: $96 for Garage Society Coworking members; $120 for non-members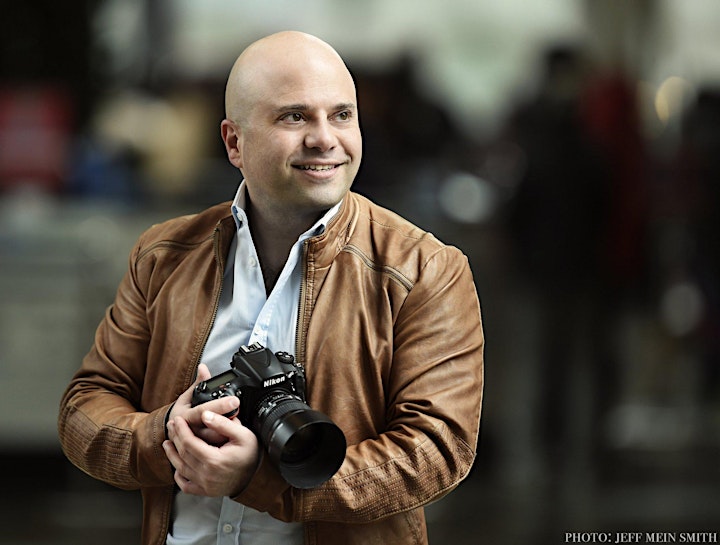 Director of Photography, Ali G Studios
Ali Ghorbani lived through a war and the Iranian Revolution in his native Iran, before moving to the United States, where he earned a degree in Electrical Engineering. Ali's accolades as a professional photographer include photographing at the 1996 Olympic Games, and Hollywood and Bollywood celebrities such as Keanu Reeves, Robert De Niro, Leonardo DiCaprio, Mariah Carey, and Shah Rukh Khan, to name a few.
In addition to being one of Hong Kong's most famous wedding photographers, he has been published in The New York Times, Times of India and South China Morning Post. Ali has also given sold-out workshops in photography and social media, including working with brands such as Porsche, Adobe, Dom Perignon, Lan Kwai Fong Group and Disney.
Garage Academy is the programming initiative within Garage Society, a Hong Kong-based coworking space.
We activate our spaces to bring ideas and opportunities together through experiential events. Garage Academy's curated programme of talks, workshops, and webinars are designed to connect the community, spark curiosity, and catalyze change.