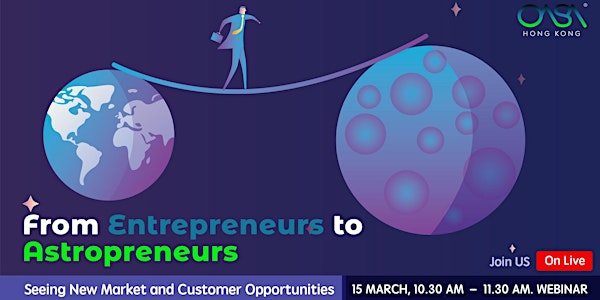 From Entrepreneurs to Astropreneurs
"From Entrepreneurs to Astropreneurs – Seeing New Market and Customer Opportunities"
About this event
"What does the 7 minutes of terror have to do with an Astronaut, an Entrepreneur, and an Executive Coach?"
Answer: They all aspire to become an Astropreneur!
Come join us on March 15th and find out about the New Space Economy and the future opportunities that await you.
Don't get left behind in this amazing "Journey from Entrepreneurs to Astronpreneurs!"
The New Space Economy has arrived
Agenda:
10.30 – 10.40 : Opening & "Voice of the Customer" – Perry Lam
10.40 – 10.55 : Entrepreneurship – Joseph Jeong
10.55 – 11.20 : Commercialization of Space Economy – Christopher Altman
11.20 – 11.30 : Q&A session
Speakers:
Christopher Altman - An American physicist, quantum technologist, international diplomat and NASA-trained commercial astronaut who began his scientific career with a Guinness world record-holding artificial intelligence project and a NASA/USAF-supported time travel division at multidisciplinary, "Deep Future" research institute Starlab.
Joseph Jeong - A serial entrepreneur - having started and successfully exited a Hedge Fund and Institutional Brokerage in HK. He is also an MIT trained Entrepreneurship Instructor and a TechEd Entrepreneur and Investor. Joseph has co-founded FutureHack, a Tech, Entrepreneurship education platform and EXLskills, a digital skills training platform.
Perry Lam - Vice Chairman of OASA and founder of the LAM Institute and is leading the Executive Coaching, Business Storytelling and Human Capital Practice. His expertise is partnering with Asian business leaders to heighten their Executive Presence, Persuasive Communications and Leadership gravitas to realize their full career potential and business performance throughout Asia.