Friday Dreamer - Think Funding? Think Again!

Friday, 18 November 2016 from 18:15 to 20:00 (HKT)
Event Details
Description
Money, money, money! In the past decade, we heard startups success are often measured by the amount of funding and investments, the unicorns, as we all are familiar with. But sometimes as a startup, getting funded is not your first pirority. Even you have limited money to start, it might actually be a good thing! Creating and sustaining a business is more than just becoming high valuation, but the mission and beyond.
Sunny Kok and Alvin Lam, two experienced entrepreneurs will now sit together, each with interesting and special perspective and to share about their experience in all things getting funded. Aspiring entrepreneurs like you must not miss the chance to learn from the two industry experts!
錢、錢、錢!在過去的十年裡,我們經常聽見人們用初創企業所籌得的資金及投資來衡量他們是否成功。但有時候,作為一個初創公司,籌集資金並非你的首要考慮。即使你只有有限的金錢來開展你的生意,這可能是一件好事!因為創立一盤可持續的生意不單止要建立高價值,更要抱有使命,目光放遠。
兩位經驗豐富的創業家 Sunny Kok 和 Alvin Lam 將會同台出現,坐在一起,用有趣及獨特的方式,分享他們對籌集資金的見解及故事。你,作為一位積極向上的創業家,怎能錯過在兩位行業專家身上學習的大好機會呢?
Activity Details
Date: 18th November,2016
Time: 18:15 -20:00
Guests: Sunny Kok, Alvin Lam
Language: English
Quote: 50 (First-come-first-served)
18:15 - 18:30 Registration
18:30 - 18:50 Welcoming + Guest Self-introduction
18:50 - 19:45 Panel Discussion + Q&A
19:45 - 20:00 Networking
Sunny Kok
CEO, Green Tomato Limited
Alvin Lam
Managing Partner, T12M Ventures Ltd.
Founder, PacificLink Group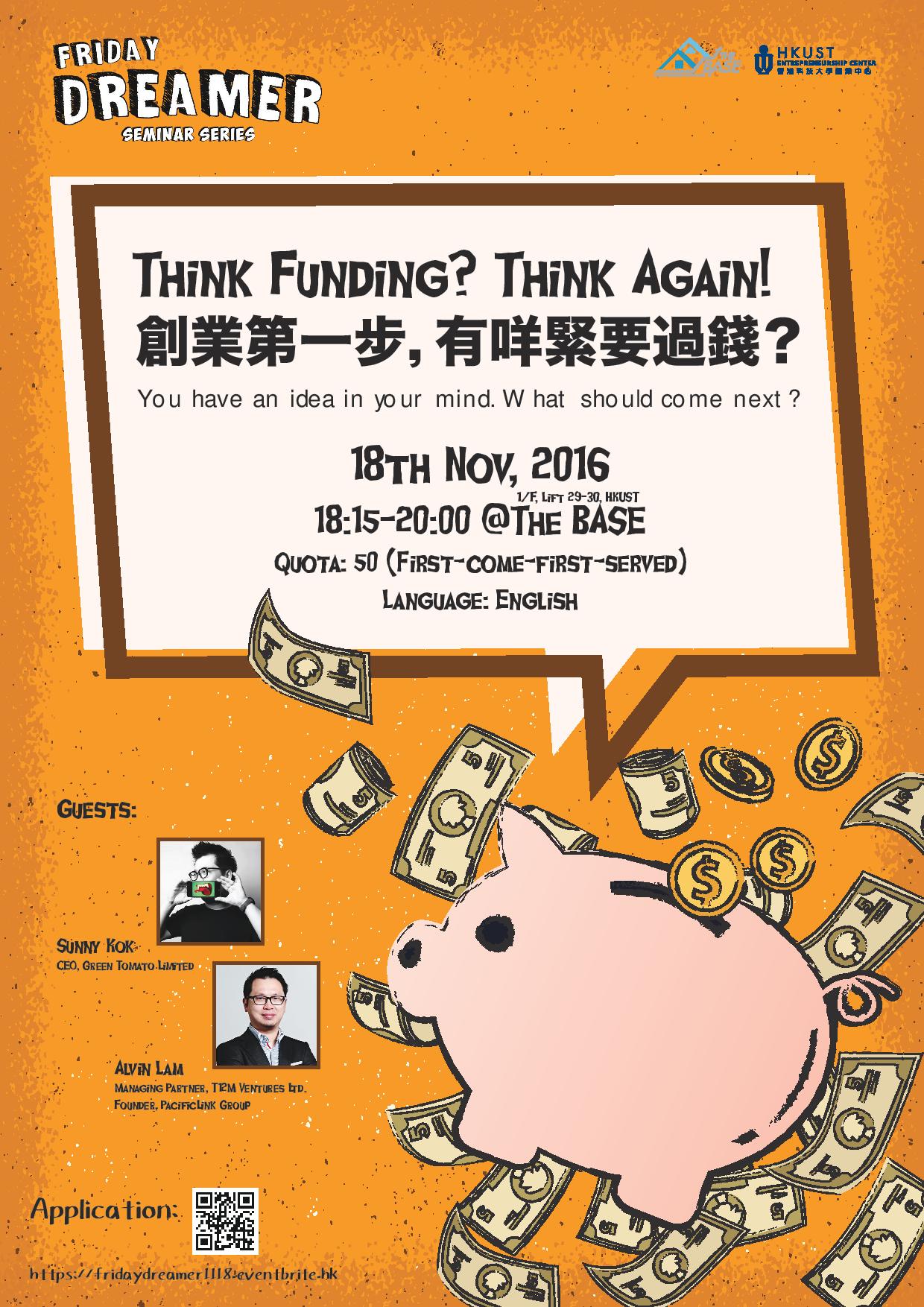 Do you have questions about Friday Dreamer - Think Funding? Think Again!?
Contact The BASE
When & Where

Hong Kong University of Science and Technology
The BASE
Clear Water Bay
New Territories
Hong Kong SAR China

Friday, 18 November 2016 from 18:15 to 20:00 (HKT)
Add to my calendar
Organiser
The BASE is a student-driven community supported by HKUST Entrepreneurship Center with a physical co-working space, which aims to promote and cultivate the Entrepreneurial Spirit through different kinds of activities such as seminars and workshops in HKUST & Hong Kong.